January of 2023 heralds the formal launch of the North American Silhouette Shooting Association (NASSA)!
From defining and implementing the initial NASSA concept in 2019 through the development of our NASSA organization website (nassasilhouette.org), our NASSA Implementation Team has been working diligently throughout the Covid Pandemic to prepare for this day.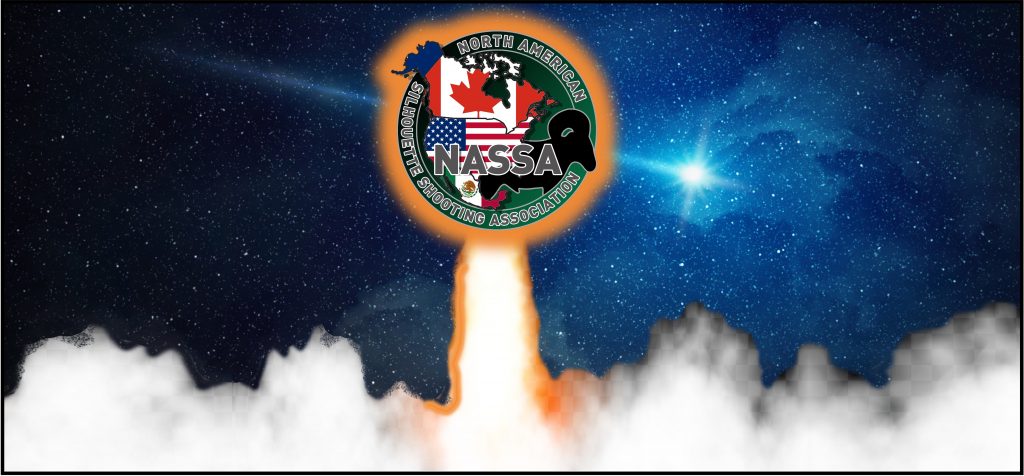 "NASSA – An Association Built by Silhouette Shooters for Silhouette Shooters"
The overriding purpose of NASSA is to foster and promote Rifle Silhouette sports throughout Canada, Mexico and the USA. This is achieved through creating a NASSA regionalized structure throughout North America, the promotion of championship matches and silhouette clubs, and the dissemination of Rifle Silhouette news, technical information and shooter dialogue to benefit our Silhouette shooting community.
VISION
The Premier Organization for the Promotion of Rifle Silhouette Shooting Sports on the North American Continent.
Camaraderie ♦ Tradition ♦ Passion for Shooting
Our NASSA vision is clear and the means and processes to achieve our vision are now well defined. NASSA will continue to gain momentum over the coming months and years as we work to promote our Rifle Silhouette shooting sport throughout the North America continent.
---
The Birth of NASSA
Garin Hatch, Dustin Flint and Chris Cawthorne (shooters from the Louisiana/Texas Silhouette community) had been discussing the possible creation of NASSA since 2017. All three shooters were passionate about our Rifle Silhouette sport needing a proactive infusion to stay viable. Proactive infusion needs volunteers and this dilemma is best summarized in one famous passage:
"If not us, who? If not now, when?"

– Attributed to Hillel the Elder (113 BC – 8 AD)
The ground-breaking Lapua Monarch Cup, involving participants from Canada, Mexico and the USA, served as the final stimulus for starting and implementing NASSA. Imagine having NASSA complement the spirit of the Lapua Monarch Cup as well as leveraging the critical mass of an entire continent of Rifle Silhouette shooters to help grow our sport!
The NASSA Implementation Team was kicked off by Garin Hatch and Chris Cawthorne in 2021 during the Covid Pandemic. This work culminated in a NASSA developmental website being built and "test-driven" with some of our top Rifle Silhouette shooters at the 2022 NRA Smallbore Silhouette Nationals in Ridgway. The team also talked extensively to key individuals at the Lapua Monarch Cup Match in Saltillo, Mexico for valuable input. With a positive response from shooters across our continent, the NASSA Implementation Team went into full implementation mode targeting January 2023 for the NASSA organizational launch.
In parallel with the NASSA implementation, Dustin Flint was a key player in getting the Lapua Monarch Cup off the ground and started The Rifle Silhouette Report on the Substack app in September 2022. Our NASSA Newswire posts Dustin's latest publication of The Rifle Silhouette Reports as they appear.
---
NASSA Website – A Work in Process
As you read this, the nassasilhouette.org website (the face of NASSA) is now up and running online. Please be patient with us as we work through all the launch growing pains and ongoing work-in-process such as completing/editing/adding more webpage content and tweaking where necessary.
While the NASSA website does have English/Spanish translation capability, we will be working hard to correct any Spanish grammar errors from English auto-translated pages. We have also noted some of the more substantial future work in the paragraphs below that supports our NASSA Vision over the upcoming years:
---
Upcoming Championships & Results – Over time, NASSA's goal is to be able to post all Championship Matches throughout Canada, the USA and Mexico within this link so you plan out the matches you want to attend for the year. Championship Match Directors can contact us through the NASSA website Contact US page, the NASSA Forum, or the NASSA Facebook Group to ensure your matches get posted. This is a work-in-process so be patient with us. We can only post what we receive during the course of the match seasons.
---
News & Multi-Media – We will post NASSA Press Releases from the NASSA Implementation Team to announce new developments within NASSA. We will also publish periodic NASSA Regional Updates regarding local news within our NASSA Regions in Canada, Mexico and the USA. We have also introduced a Silhouette & Industry Newswire to keep you posted on what is going relevant to our Rifle Silhouette world. In addition, you be able to find direct links to the NASSA Facebook Group, NASSA Instagram and the NASSA YouTube Channel. We will also be promoting NASSA Live to help assist you in broadcasting live feed from your Championship Matches
---
NASSA Regions/Clubs – We now have 4 of 6 USA Regional Directors appointed. NASSA Mexico Integration Director Recardo Arellano will also be spearheading the recruitment of (4) new NASSA Mexico Regional Directors. Discussions will also move forward regarding the appointment of a NASSA Canadian Provisional Director.
Our NASSA mission is to work on listing all Rifle Silhouettegun clubs and club matches throughout North America. This will take some time as you will notice when visiting the NASSA Regions/Clubs link. The USA South Central Region is our pilot project for listing all gun clubs in the region, so take a look! A major task of all NASSA Regional Directors is to facilitate adding new Rifle Silhouette club profiles to the NASSA Website.
---
Lones W. Wigger Technical Library – Building up content within our technical reference library is a very high priority to better serve our Rifle Silhouette community. For now, read our Technical Blogs that have been posted for a sample of things to come. We welcome anyone who wants to become a regular or guest contributing author to our Technical Library. We will help you write, edit and/or post your technical articles and blogs if you want to give it a try. It can be extremely rewarding for all those that do contribute. Other categories of technical information are being added over time. A very high priority is a NASSA Training/Coaching Curriculum for our Junior Rifle Silhouette Shooters! More to come on this in the future!
---
NASSA Forum – Our NASSA Forum categories were created to optimize the exchange of useful information between Rifle Silhouette Shooters. We have also duplicated the forum categories in both English and Spanish and bi-lingual forum users are welcome to post in both. So register for our NASSA Forum, post often and help us make this a success!
To maintain the integrity of our NASSA Forum, we will have English and Spanish speaking NASSA Forum Moderators. Please read and understand our NASSA Forum Policies & Rules carefully. Anyone violating our policies and rules risk losing their posting privileges.
---
NASSA Links – Over time, we will add more useful NASSA Links that will take you to valuable online sources of information such as North American sanctioning bodies, kindred organizations, related forums and other useful links. Our philosophy for NASSA Links is to be a "one-stop-shop" for everything related to Rifle Silhouette. If you do not see one of your favorite links on our NASSA Links page, contact us and we will post it for others Rifle Silhouette shooters to use and enjoy.
Lapua Monarch Cup (LMC) – NASSA has also agreed to support the Lapua Monarch Cup through the administration of the Lapua Monarch Cup Website. As we receive updates from the LMC Board of Directors and through LMC Press Releases, we will update the LMC Website. NASSA is honored to be able to logistically support the LMC in the years to come. Go to the NASSA Homepage for a quick link to the LMC Website.
---
The NASSA Implementation Team
The current NASSA Implementation Team is made up of the following individuals. As we grow and progress into different development phases, our team will grow and shift accordingly.
Chris Cawthorne – NASSA Co-Founder & Implementation Director
Garin Hatch – NASSA Co-Founder & Website/Systems Administration Director
David Mackiernan – NASSA Media Administration Director (Founder of Metallic Silhouette Shooter's Society)
Mario Herrera – NASSA Database & App Development Director
Ricardo Arellano – NASSA Mexico Integration Director
Tim Steinke – NASSA Website Coding and Technical Support (Consultant)
Feel free to reach out to us via the NASSA Contact Page, NASSA Forum, NASSA Facebook Group or talk to us at the championship matches we regularly attend! We are here to answer your questions, but please be patient with us until the "NASSA launch dust settles". If you would like to volunteer your time and skills in helping the NASSA Implementation Team or the NASSA Regional Directors, we would love to talk with you. We only get stronger if we all work together in some capacity to help grow our Rifle Silhouette sport!
---
The NASSA Implementation Team would especially like to acknowledge and thank the Silhouette Gun Clubs who donated the initial funding to help build our NASSA Website. We also want to thank all our Rifle Silhouette friends who individually donated funds to supplement costs incurred by the NASSA Implementation Team.
Ridgway Rifle Club
Bayou Rifles Inc.
Golden Triangle Gun Club
East Ascension Sportsman's League (EASL)
Club De Tiro Saltillo Safari
Without such funding, we could not have gotten NASSA off the ground. The future of NASSA will require additional funding for our annual reoccurring costs (software licenses, server hosting costs, etc.) as well as funding future projects to bring more value to our NASSA Members. Our ultimate goal is to make NASSA a 501(c)(3) non-profit corporation so all donations are tax deductible. In the meantime, if you are interested in helping out with a small donation, please contact us!
---