We are pleased to announce the merger and rebranding of the Metallics Silhouette Shooter's Society (MSSS) with the North American Silhouette Shooting Association (NASSA) effective immediately. David Mackiernan, the creator of MSSS, will also join the NASSA Implementation Team as our NASSA Media Administration Director as we continue to build the NASSA platform. Welcome aboard David!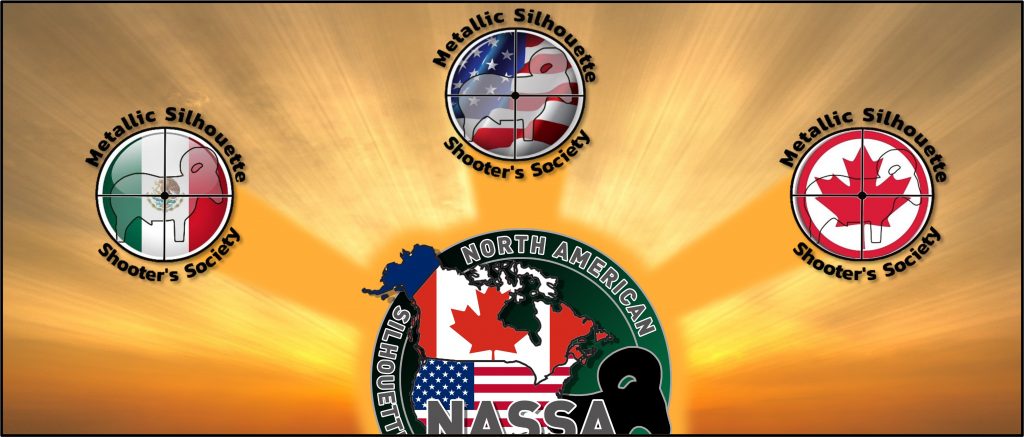 NASSA/MSSS Merger Talks
Discussions on the possible merger between MSSS and NASSA had been ongoing for about three months prior to a final face-to-face meeting at the 2022 NRA National Silhouette Championships in Ridgway. David Mackiernan (MSSS Creator) and Chris Cawthorne (NASSA Implementation Director) finalized the NASSA/MSSS merger and disclosed details at the NASSA Implementation Update Meeting after the Smallbore Championships concluded.
David Mackiernan and Chris Cawthorne had the following comments about the now-finalized NASSA/MSSS merger:
---
"Being a fiercely independent person, when I was approached by NASSA I decided to "do my homework" and dig deep into the philosophy of what was envisioned by the NASSA team. I have been pleasantly surprised by the clear direction forward that Chris Cawthorne and his NASSA team have planned for the future of Silhouette shooting.
This way forward for our sport is exactly what I was looking for and similar to what I have been working on myself for the last few years. I quickly realized the potential that could be reached by pooling resources and manpower. Also I acknowledge that NOW is the time to unify the Silhouette community and collaboration with MSSS should boost NASSA's launch and propel them into Silhouette's future."
– David Mackiernan, NASSA Media Administration Director
---
"Very early on in our NASSA Strategic Planning, Garin Hatch and I realized the potential and necessity of having a strong NASSA Facebook Group to help gather and disseminate information about NASSA and what is happening in the Rifle Silhouette world. MSSS was the benchmark of what we needed and we concluded that collaborating with MSSS would turbocharge our NASSA rollout."
"When we reached out to David Mackiernan, our values and ambitions were mutually aligned regarding the promotion of our Rifle Silhouette sport. It was David who said that we ought to work together side-by-side to make NASSA successful. Our NASSA Implementation Team agreed and to show our sincerity, we asked David to join our NASSA Implementation Team as an equal partner in our crusade. A handshake at Ridgway in August of 2022 sealed the merger!"
– Chris Cawthorne, NASSA Implementation Director
---
Our Vision Moving Forward
Both MSSS and NASSA bring complementary strengths for optimizing the NASSA organization and growing our Rifle Silhouette sport throughout North America:
MSSS has been a leading Rifle Silhouette Facebook Group & YouTube Channel with over 2200 members and growing. The MSSS Facebook Group & YouTube Channel has served to quickly disseminate internally generated posts, valuable Rifle Silhouette news and shooters' posts to promote and grow our Silhouette sport. David Mackiernan has dedicated 100's of hours in successfully building MSSS and he will continue to be a guiding hand and prolific contributor of Silhouette content in his new NAASA role.
NASSA was built around the idea of a decentralized and regional structure model across North America. The intent is to grow our Rifle Silhouette sport at a grassroots level using an overall governance model to execute our strategy. Imagine an organization built by Silhouette shooters for Silhouette shooters! The face of NASSA is our NASSA website. The NASSA website, complementing our newly branded NASSA Facebook Group and YouTube Channel, will serve as a the long-term depository for information pulled from social media posts. Long-term information can be organized for quick viewer access and into libraries and databases to serve our Rifle Silhouette community.
Our launch of NASSA has now concluded Phase III of the NASSA Implementation Strategic Plan. Phase IV of this same strategic plan will move NASSA into more technically progressive, value-added features for the shooters. All of this is now possible by leveraging the complementary core strengths of MSSS and NASSA mentioned above. The entire NASSA Implementation Team is looking forward to moving to Phase IV after our NASSA launch settles down a bit and we will keep all of you posted through NASSA Press Releases (such as this one) as we move forward.