WELCOME TO THE NORTHWEST USA REGION OF NASSA!
This region services Alaska, Hawaii, Idaho, Montana, Oregon, Washington and Wyoming.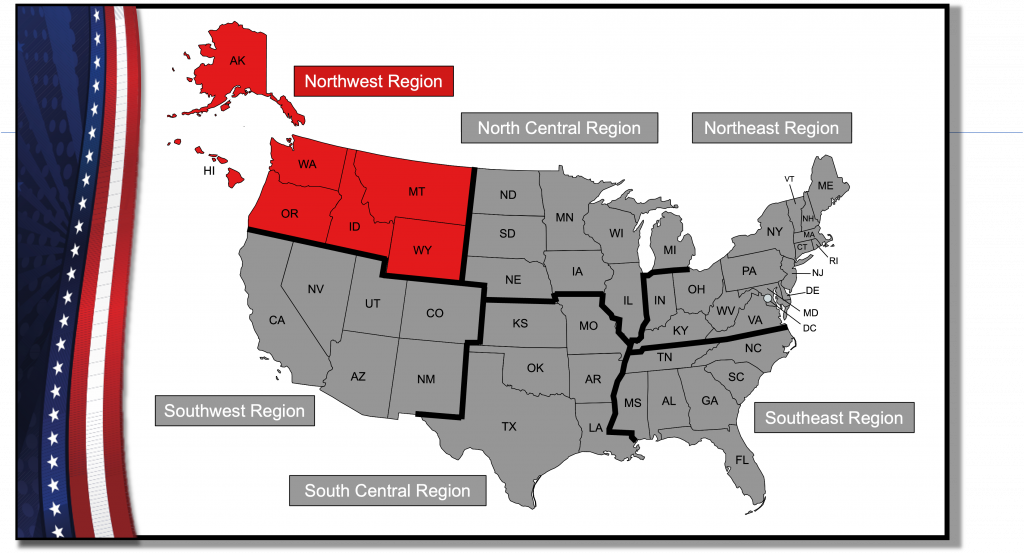 USA Northwest Regional Contacts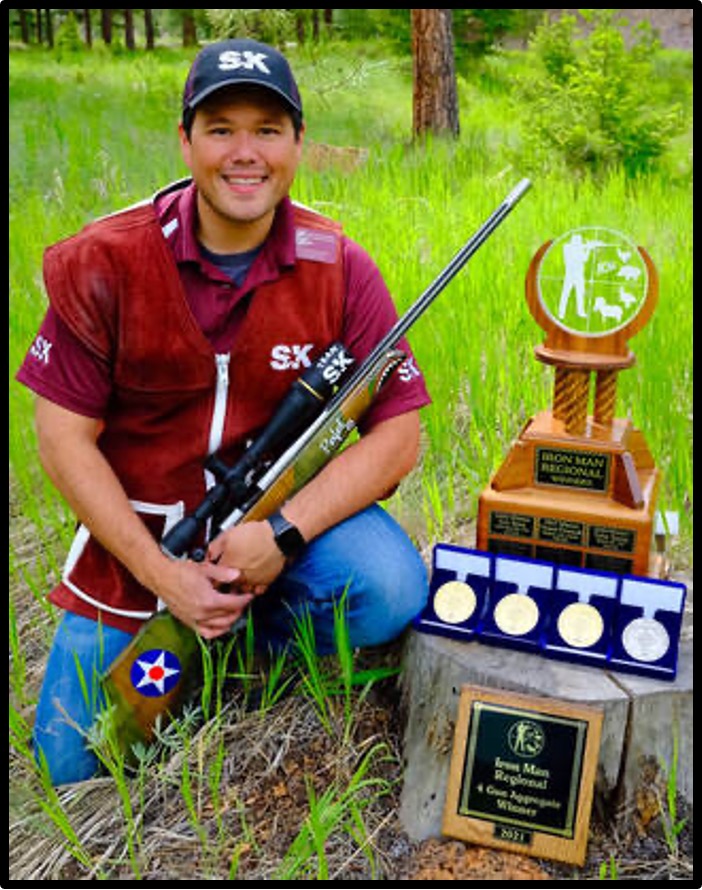 Erich Mietenkorte – Northeast Regional Director
Email: Erich@joshnewrockit-com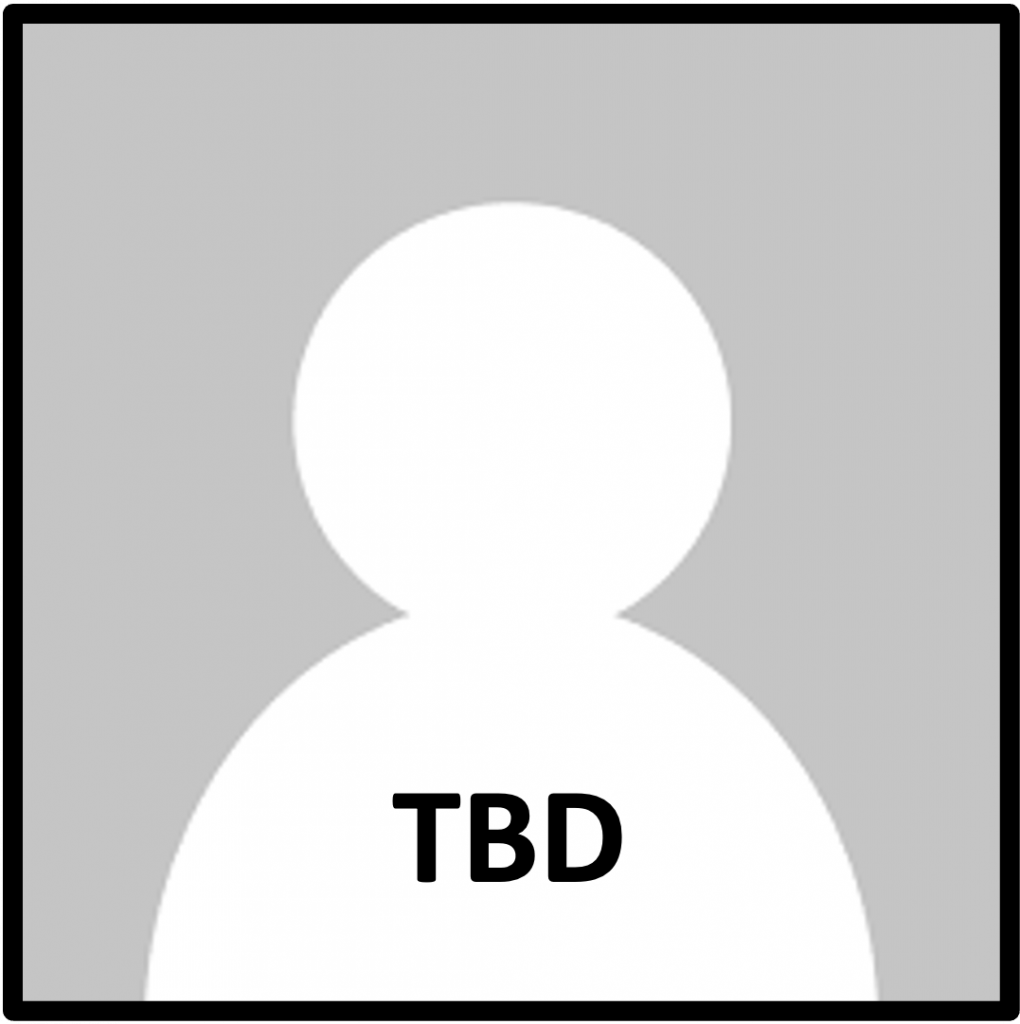 TBD – Northeast Regional Calendar Manager
Email:
Northwest State Silhouette Representatives:
---
2023-2024 Northwest Regional Initiatives (Preliminary)
The Northwest Regional Director will work together with the Northwest State Silhouette Representatives to establish 2023-2024 Northwest Regional Initiatives to promote the growth of Rifle Silhouette in the region. The Northwest Regional Director will also work with other NASSA Regional Directors when appropriate to leverage resources where mutual cooperation is beneficial.
Since Erich Mietenkorte has just taken up his position as the Northwest Regional Director, we can take a quote from his NASSA Press Release on where his priorities are at this point in time:
"The Northwest Region has a long history of having some of the best matches silhouette has to offer. I look forward to working with the incredible individuals who have kept the sport of silhouette strong for all to enjoy. By working together and coordinating ongoing efforts I have no doubt we can continue to keep the sport strong and create more opportunities for shooters to compete and enjoy silhouette in the Northwest Region."
"One of my main focuses will be to increase involvement of youth shooting programs throughout the Northwest. I believe supporting youth shooting programs and presenting silhouette as a method to teach marksmanship skills will not only have a positive impact on the future of silhouette but also give more opportunities to youth shooters to diversify their competitive outlets."
---
Regional Club Match Calendar
Google Calendar software (or equivalent) will be developed by the NASSA Implementation Team for all NASSA Regions to utilize this software for listing club matches.
You will be able to access the calendars here on each Regions/Clubs webpage as shown with the example link below and the image on the right.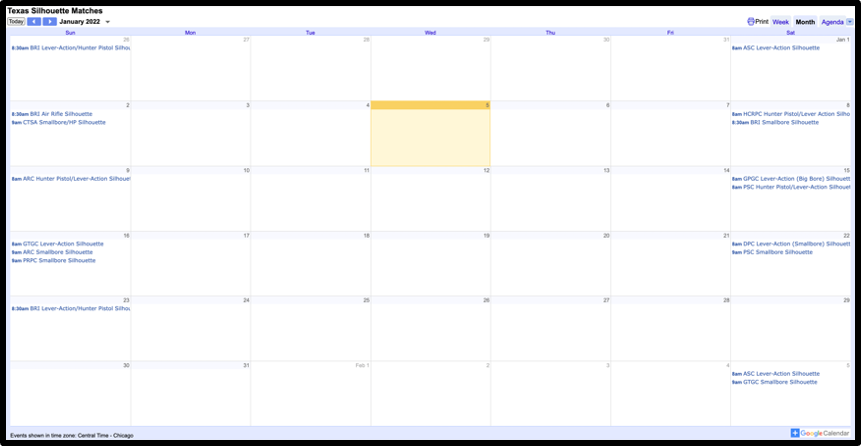 Example (Texas Silhouette Club Match Calendar)
---
Silhouette Gun Club Listings & NRA Affiliated State Organizations
Below you will find silhouette gun clubs listings & links to gun club profiles for the USA Northwest Region. Your NASSA Implementation Team is working hard to capture all known gun clubs in this Region that offer a Rifle Silhouette Program.
We have also included all NRA Affiliated State Organizations with links to their websites. Your NASSA Implementation Team carefully reviewed all these State Organization websites and have concluded there is a substantial opportunity to insure Rifle Silhouette disciplines are included as content.
SHOULD YOU NOT SEE YOUR GUN CLUB LISTED, CONTACT US BELOW TO GET IT ON THE WEBSITE
---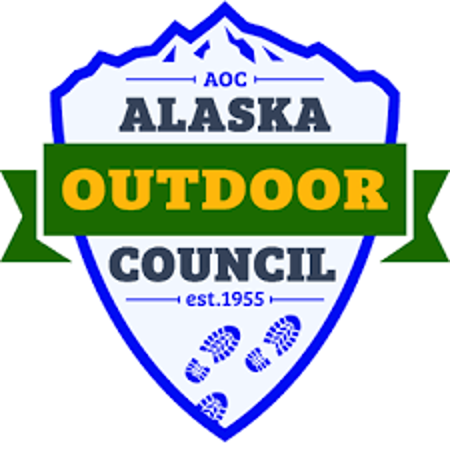 Alaska Outdoor Council
AOC Mission – Dedicated to the preservation of outdoor pursuits in Alaska – hunting, fishing, trapping, and public access and conservation of the habitats upon which they depend.
AOC Vision – To unite the voices of our membership and member clubs to effectively represent their outdoor interests in all facets of public policy.
---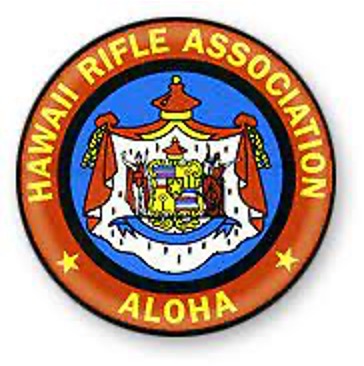 Hawaii Rifle Association
Hawaii Rifle Association (HRA) is affiliated with the National Rifle Association and is working hard to protect their local rights to Keep and Bear Arms. In addition to protecting Hawaiian's civil rights, the HRA promotes gun safety and hunter education on the islands.
---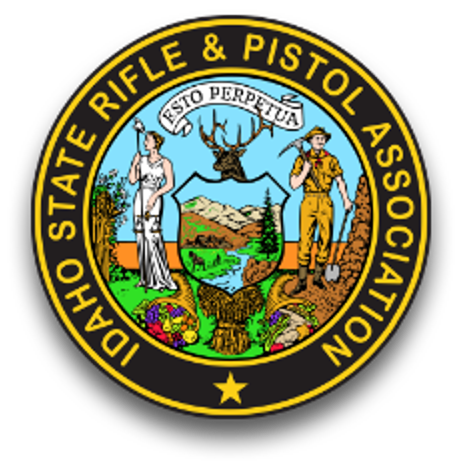 Idaho State Rifle and Pistol Association
The ISRPA is Idaho's premiere organization for avid shooters and supporters of the National Rifle Association. Members from all over the state enjoy exclusive benefits, and sound assurance that they're supporting the largest defender of 2nd Amendment rights in the nation, the NRA.
---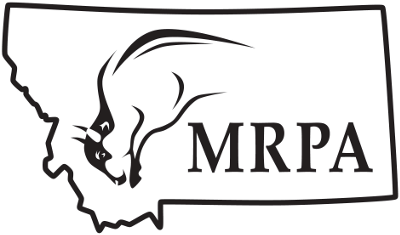 Montana Rifle and Pistol Association
We are fellow Montanans that are protective of our 2nd Amendment rights. We are the NRA, USA Shooting and CMP affiliated State Association that is dedicated to supporting programs that encourage the safe and legal use of firearms. We are volunteers that promote competitive shooting sports and marksmanship training in Montana. We sponsor and assist with the development of adult and youth shooting competitions where safety, discipline and confidence with firearms are advanced. Whether you are an adult interested in learning more, or a parent wishing to introduce their child to safe marksmanship practices – we can help. The MRPA is a a 501(c)(4) non-profit corporation, first incorporated in May of 1964. The MRPA has been promoting marksmanship activities since at least the 1920's.
---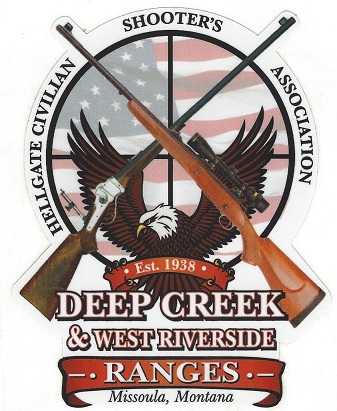 Hellgate Civilian Shooter's Association (Missoula, MT)
The Hellgate Civilian Shooters Association, (HCSA), was incorporated in May, 1938. The orginal range location, in West Riverside, is still in use today. We also have a range with extensive facilities in Deep Creek.
HCSA offers practice and world class shooting competitions, hosting the Iron Man Silhouette Regional Match in June and a Lever Gun Silhouette Regional in September and features regular club silhouette matches.
---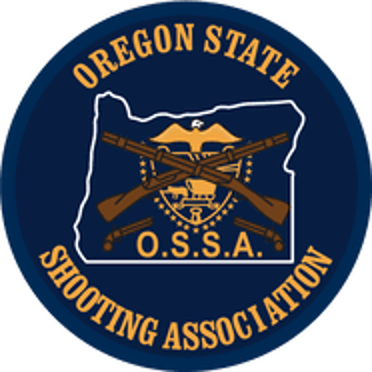 Oregon State Shooting Association
The Oregon State Shooting Association supports shooting sports with this taken from their objectives:
To sponsor the State Championship Tournaments and to encourage the sport of competitive marksmanship and target shooting. To coordinate and encourage efforts of member clubs and individuals in the field of firearm safety, marksmanship training and all types of recreational shooting.
---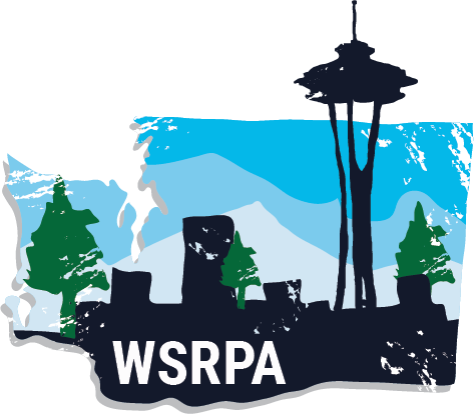 Washington State Rifle & Pistol Association
The Washington State Rifle and Pistol Association mission is to foster and support the shooting sports in Washington State. They schedule and sanction state championships in Precision "Bullseye" Pistol, High Power Rifle, Smallbore Rifle, and Precision Air Rifle disciplines and support junior programs around the state to keep the shooting sports alive for the next generation.
---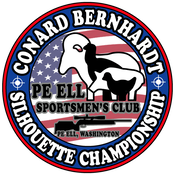 Pe Ell Sportsman's Club (Pe Ell, WA)
Home of the Conard Bernhardt Silhouette Championship, the little town of Pe Ell, Washington has one of the best known silhouette ranges in the country. Favorable shooting conditions have made the Pe Ell Sportsman's Club the home of many National Records and host to the top shooters in the country.
---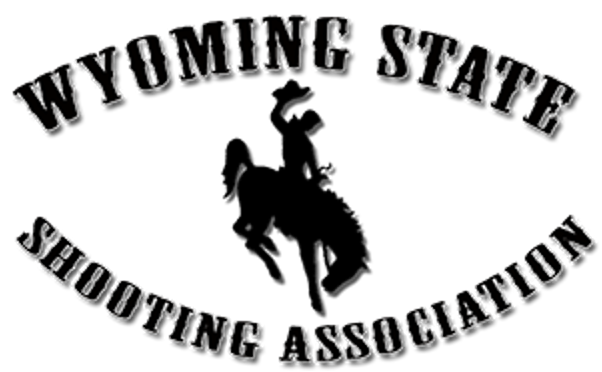 Wyoming State Shooting Association
Wyoming State Shooting Association Mission Statement – It shall be the purpose of the Wyoming State Shooting Association to protect and defend the citizens to own, possess and use firearms for legitimate purposes; to educate and train citizens of good repute in the safe and efficient use of small arms; and to promote sportsmanship and wise use of natural and renewable wildlife resources. The WSSA shall undertake the dissemination of useful and timely information regarding marksmanship training, as well as develop and conduct small arms competition matches in cooperation with the National Rifle Association and the Civilian Marksmanship Program.
---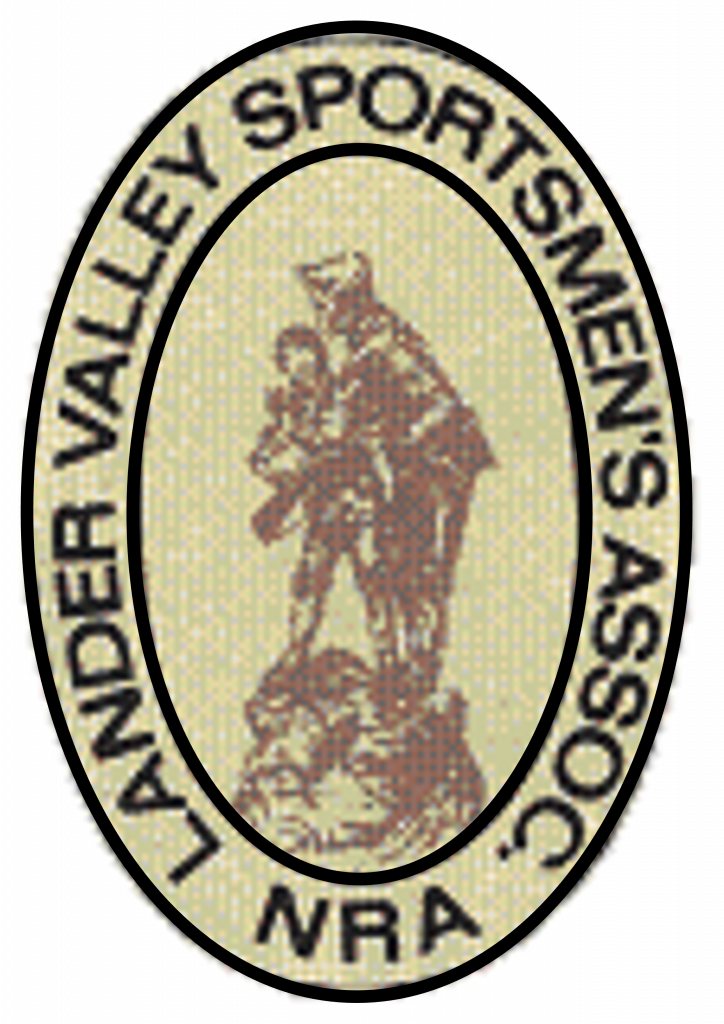 Lander Valley Sportsmen's Association (Lander, WY)
(Work-In-Progress)
---