USA SOUTH CENTRAL REGION – The Central Texas Silhouette Association (CTSA) hosted the 2023 Texas State Rifle Association's Highpower Silhouette Championship on May 20-21, 2023 in New Braunfels, Texas. The match format was an 80-shot hunter rifle match on Saturday followed by a single 40-shot standard rifle match on Sunday.
This year the match was moved to May and served as a great warm-up for shooters going to Raton, New Mexico in July for the NRA National Silhouette Championships. The move proved beneficial as there was a 50% increase in the number of shooters this year.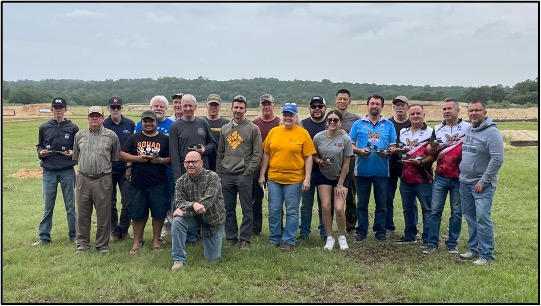 2023 Texas State HP Silhouette Championship attendees
At the end of the match, Gabriel Villareal of Mexico took the overall aggregate championship with an 82/120. While Gabriel did not win Saturday or Sunday, his aggregate score showed the importance of consistency. Junior shooter Jake Stine won Saturday's hunter match with an excellent 55/80 in difficult conditions. On Sunday Bayou Rifles' Chris Cawthorne shot an excellent 30/40 to take the standard rifle match. Junior shooter Michelle Carpentier again took the overall female with scores of 37/80 and 20/40.

A special thanks to our friends from Mexico who joined us!
The 6mm BR again showed that in the right hands it could win a high power silhouette match as Jake, Chris, and Michelle all shot at 6mm BR for their match wins. Special thanks to CTSA for keeping the range ready to go and hosting the match. Ashworth Awards again came through with custom steel/wood classification awards as well as high animal count awards.
Special thanks to the following companies for their support in the form of merchandise and certificates for the prize drawing table: Hart, Lilja, and Shilen Barrels; Decot Hy-Wyd Glasses, Sightron Optics; Manners Stocks; Redding and Forster Reloading; Starline Brass; Good Shooting Inc.; and Berger, Vihtavuori, and Lapua from Capstone Precision Group.
---
The following is the 2023 TSRA HP Equipment Survey from the match: