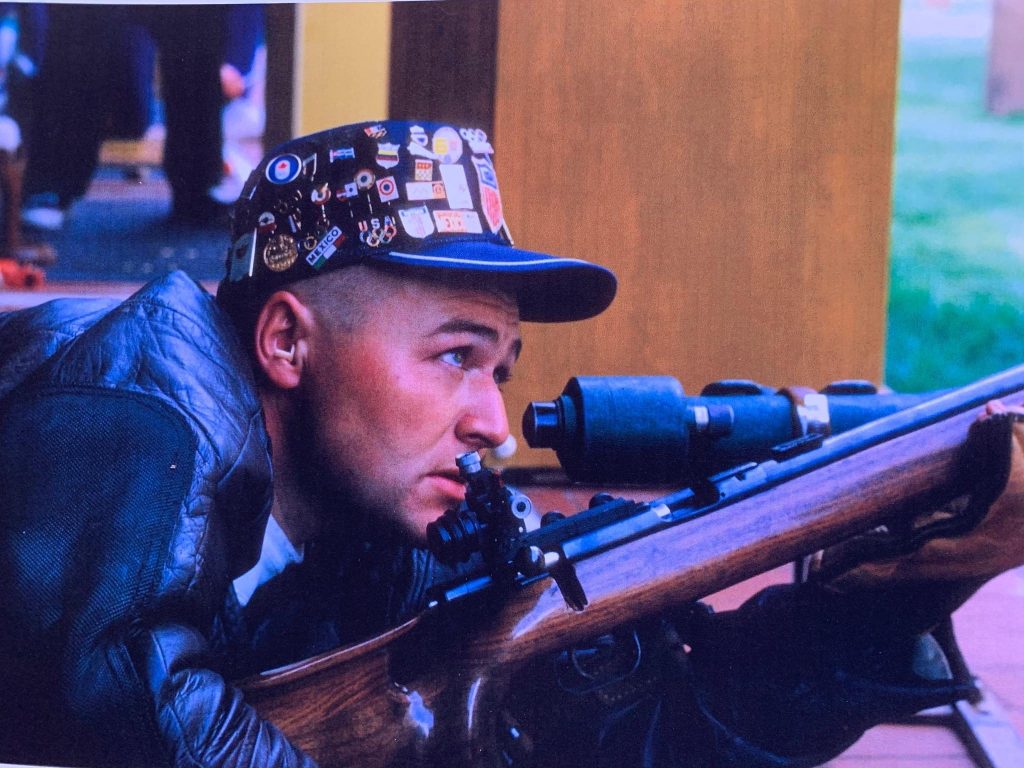 "It takes 3-4 years to learn how to shoot and another 3-4 years to learn how to win – to deal with the match pressure. It takes several more years to learn how to do it when it counts."

Lones W. Wigger, Jr.
I remember my very first conversation with Lones Wigger like it was yesterday. I was a 16-year-old junior shooting the 1970 Fall Round-Up NRA Smallbore Prone Championships at the Los Angeles Rifle & Revolver Club. Lones and I were the only shooters that weekend to shoot a 200-20X and were being honored at the awards ceremony. His encouragement that day was inspirational and meant the world to me.
The following summer at the 1971 National Smallbore Prone Championships found me protesting one of my scores to no avail. I found out later that week, unbeknownst to me, Lones had tried to intervene on my behalf to reverse the scoring decision. Needless to say, I was astonished he would do that to find out later that was the character of the man I came to greatly admire and hold up as a role model. Other shooters, juniors shooters most of all, had similar encounters with Lones at the matches we attended.
Many Silhouette shooters had the pleasure of shooting with Lones W. Wigger, Jr. over the years. While Silhouette was not his primary focus, he did love our game and was a two-time winner of the NRA High Power Silhouette National Championships. He was also a four-time Olympian and the most decorated shooter in the history of shooting sports. We all were very sad to hear Lones "left the range" in 2017.
So it feels right to kick off our Inspiration Blog Category with the our first blog entitled Lones W. Wigger, Jr. – The Making of a Champion. This blog is now listed in the Lones Wigger Technical Library on our NASSA Website. I hope you enjoy the read as much as I did capturing his achievements!
---
"Young Guns"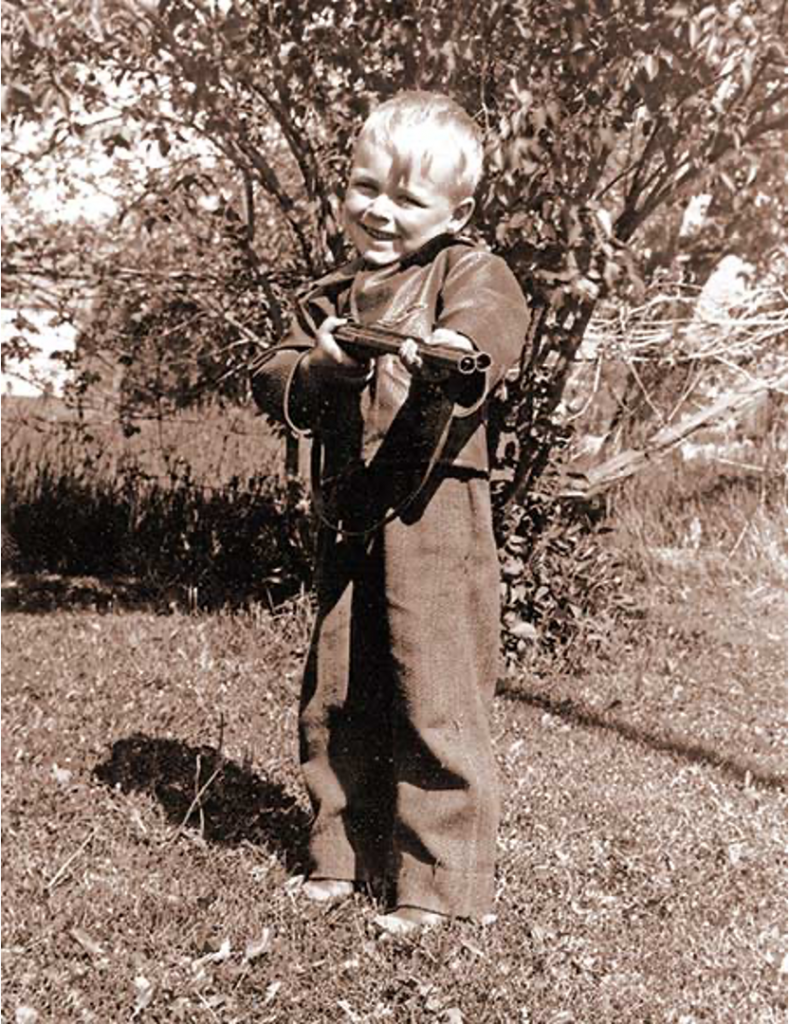 Lones W. Wigger, Jr. was born August 25, 1937 in Great Falls, Montana to Lones Sr. and Violet (Brown) Wigger. The oldest of three children, Lones Jr. worked on his parents farm in Carter, Montana so it is no surprise he learned how to handle a gun and hunt at a very early age.
With no youth baseball team in the area, Lones Jr. took up rifle shooting at the local Carter, Montana rifle range his father ran and never looked back. If we had been there, we would have picked up on what would become his trademark of outworking all of his competition.
"My father would have to come in at night and pull me off the firning line, say we're closing for the night and that we are going hole, otherwise I'd practive all night."

A Young Lones W. Wigger, Jr.
With a passion for shooting, Lones enrolled at Montana State College in the fall of 1955. Lones Wigger was a standout shooter on the Montana State College Rifle Team from 1955-1959, achieving All-American Honors for three of his years. In 1959, the Montana State Rifle Team won the NRA Intercollegiate Rifle Championships. Lones is shown 3rd from the left holding the rifle named Betsy Ross.
While at Montana State College, he would also meet the love of his life, Mary Kathryn Spencer and they were married in 1958 and stayed together for 59 years.
Soon after graduating with a Degree in Agronomy, Lones was commissioned a 2nd Lieutenant in the United States Army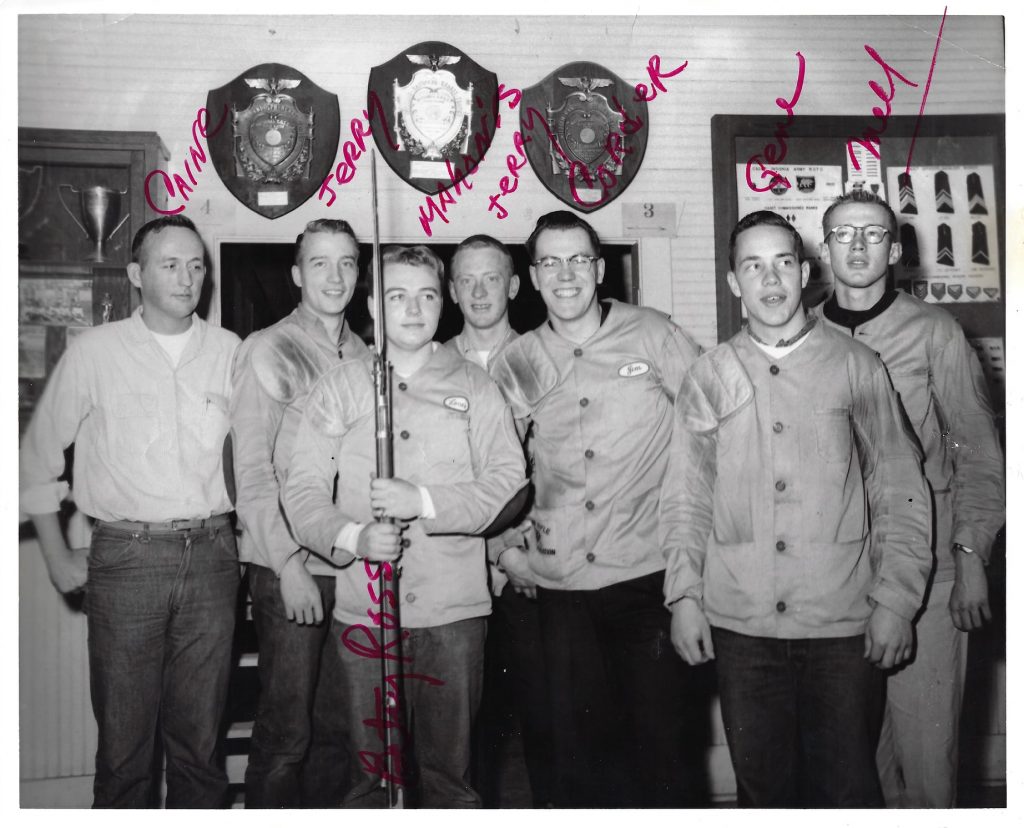 ---
"Wigger, The USAMU & Glory In Tokyo"
After WWII, the Soviet Union was dominating international shooting competitions through their systematic, scientific and well-funded shooting sports program. To push back on this, the U.S. Army Marksmanship Unit (USAMU) was established in 1956 under the direction of President Eisenhower.
As a newly-minted 2nd Lieutenant, Lones joined the USMTU in 1960. In 1962, William (Bill) C. Pullum would be appointed coach of the International Rifle Team within the USAMU. Bill Pullum's coaching genius was his his focus on the mental aspects of training rather than the physical side. With the resources available at the USAMU and Bill Pullum's help, Lones now had the perfect environment, to combining with his legendary work ethic to begin his journey!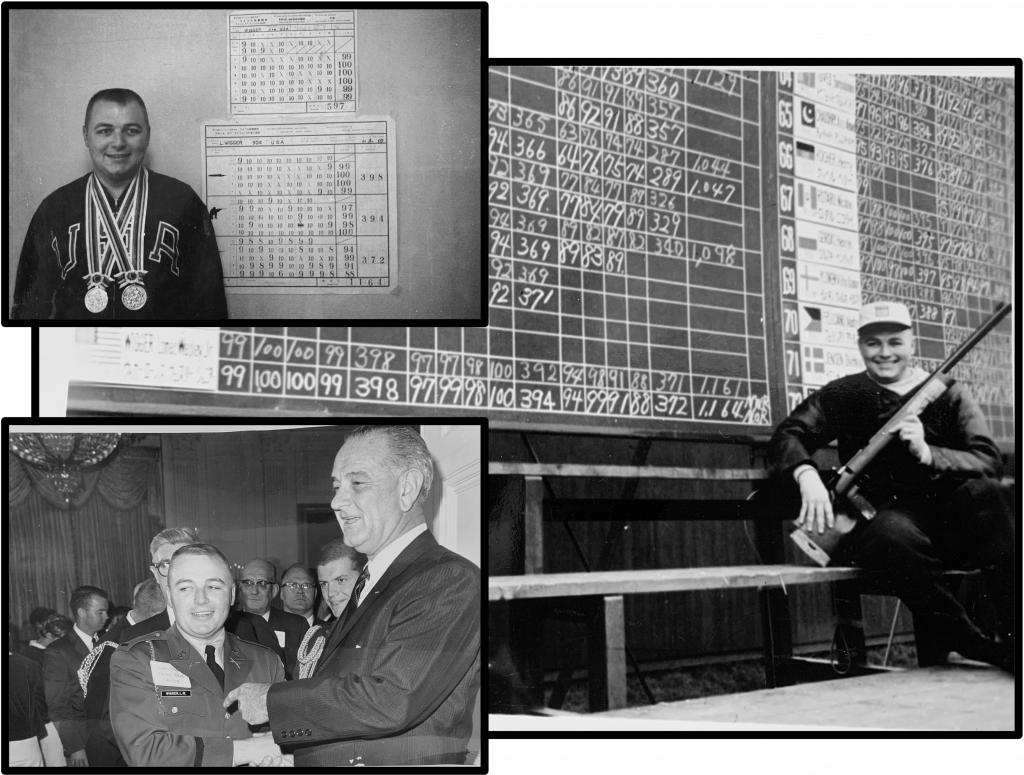 In just three short years after joining the USAMU , Lones would record his first Smallbore Rifle Position Championship at Camp Perry in 1963 and also qualified for the USA 1964 Tokyo Olympic Team.
Although he participated in the Pan Am Games in 1963 and won a silver medal in the smallbore rifle prone match,
Lones' performance in Tokyo stunned the international shooting community. He won the Silver Medal in the 50 Meter Smallbore Prone Event, tying the Gold Medal winner but losing in a tie breaker. Showing this was no fluke, Lones went on to win the Gold Medal in the 50 Meter Smallbore Position Event with a World Record of 1164.
(More on what happened aftr 1964 Olympics and Vietnam)
---
"Hello Vietnam – Duty Calls"
Lones, would serve two 11 month tours in Vietnam. On his first tour in 1967 and now a Captain, Lones would use his degree in Agronomy to assist Vietnamese farmers in the Mekong Delta improve their crop yields. In a glimpse of his character, a letter home to his county mayor appealed for toys for Vietnamese children as "Any usable toys would be better than none at all they have now".
On his second tour in 1971, Lones would be assigned as a sniper instructor at the US Army 23rd Infantry Division Sniper School stationed at Chu Lai. Within weeks, he had his snipers hitting targets out to 600 meters with their scoped M14's. Imagine that?
"I had two tours in Vietnam, 1967 and 1971, and I look at those tours as … two of the best years of my life because I was able to give something back to the military,"

Lones Wigger's second Vietnam tour – Sniper Instructor – US Army 23rd Infantry Division Sniper School
Juggling his love for shooting with his tours in Vietnam was no easy task. An example was after receiving R&R from the Sniper School, Lones' first priority was to get back to Camp Perry. He managed to hitch a ride on a military transport plane back to the States. All of his expenses, regardless of his previous Olympic success, came out of his own pocket. That's why Lones always called shooting a poor man's sport "because you get poor doing it!"
How did he do?
"Glory & Tragedy In Munich"
Xxxx

Xxxx
"The USAMU Firing On All Cylinders"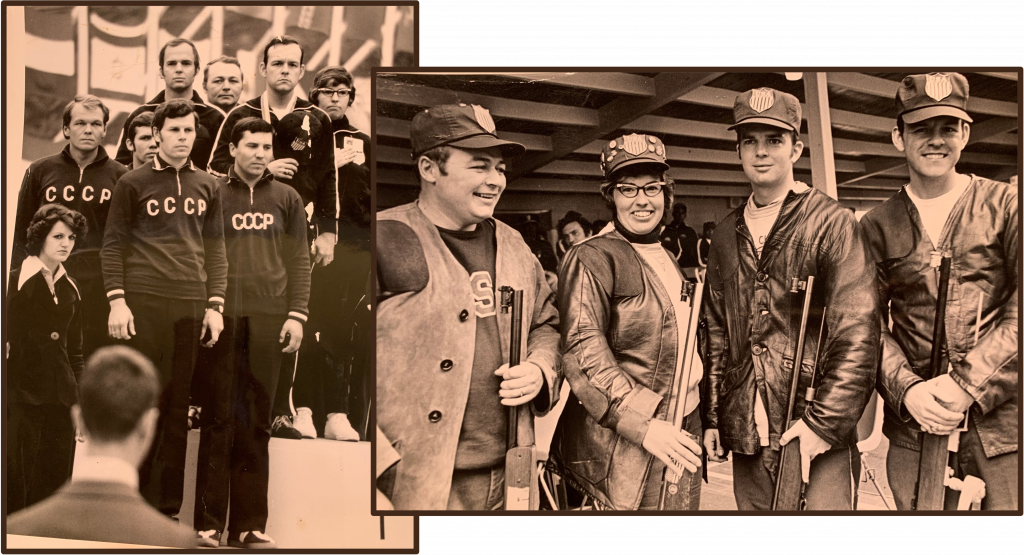 (Comment on his look at the CCP Team)
Then he looks up at a motto pinned to the wall of the converted World War II mess hall that houses the Fort Benning, Ga., indoor range. It reads: "Press on. Nothing in the world can take the place of persistence. Talent will not: Nothing is more common than unsuccessful men with talent. Genius will not: Unrewarded genius is almost a proverb. Education will not: The world is full of educated derelicts. Persistence and determination alone are omnipotent."
1980 – Made the Olympic Team – Carter Boycott
"The USAMU Takes On The Silhouette Game"
The Silhouette Game, or Metallica Silueta as it is known in Mexico, was exploding in popularity across the USA in the 1970's. So much so that the NRA agreed to sponsor a 1973 NRA National Metallic Silhouette Championships at the Tucson Rifle Club. The NRA's entry into the sport was all the catalyst that was needed.
Perhaps it was inevitable that Silhouette would catch the attention of the USAMU and so Lones Wigger and his teammate
At the 1977 NRA National Metallic Silhouette Championships, Lones and others from the USAMU came to win with their black shooting vests and were nicknamed "The Black Knights".
Old Guard….USAMU brought prestige and legitimacy to the sport of Silhouette….
Later years…. attended Ridgway, Whittington Center, Winnsboro, Zwolle and others…..
"Fall Back & Reestablish New Goals"
From SI – His own disappointment was keener. In 1976, after two tours of duty in Vietnam, Wigger had failed to make the team for the Montreal Games. In 1980 he qualified handily, only to see the U.S. boycott the Moscow Games. The Soviets and East Germans had risen rapidly to the top of the shooting sports, and Wigger–looking ahead to competing against them in the '84 Games–extended his service in the Army in part so that he could continue full-time practice at Fort Benning. But he never got the chance.
1984 – Failed to make the Olympic Team. "All year in '84 I just was not on top of my game"
"All year in '84 I just was not on top of my game. I'm not whining or making excuses. It just didn't jell for me that year. All you can do after a disappointment of that kind is fall back and reestablish your goal."
Refocus he did in retiring as a Lieutenant Colonel in 1987 and moving to Colorado Springs to take over as Director of the US Shooting Team at the Olympic Training Center.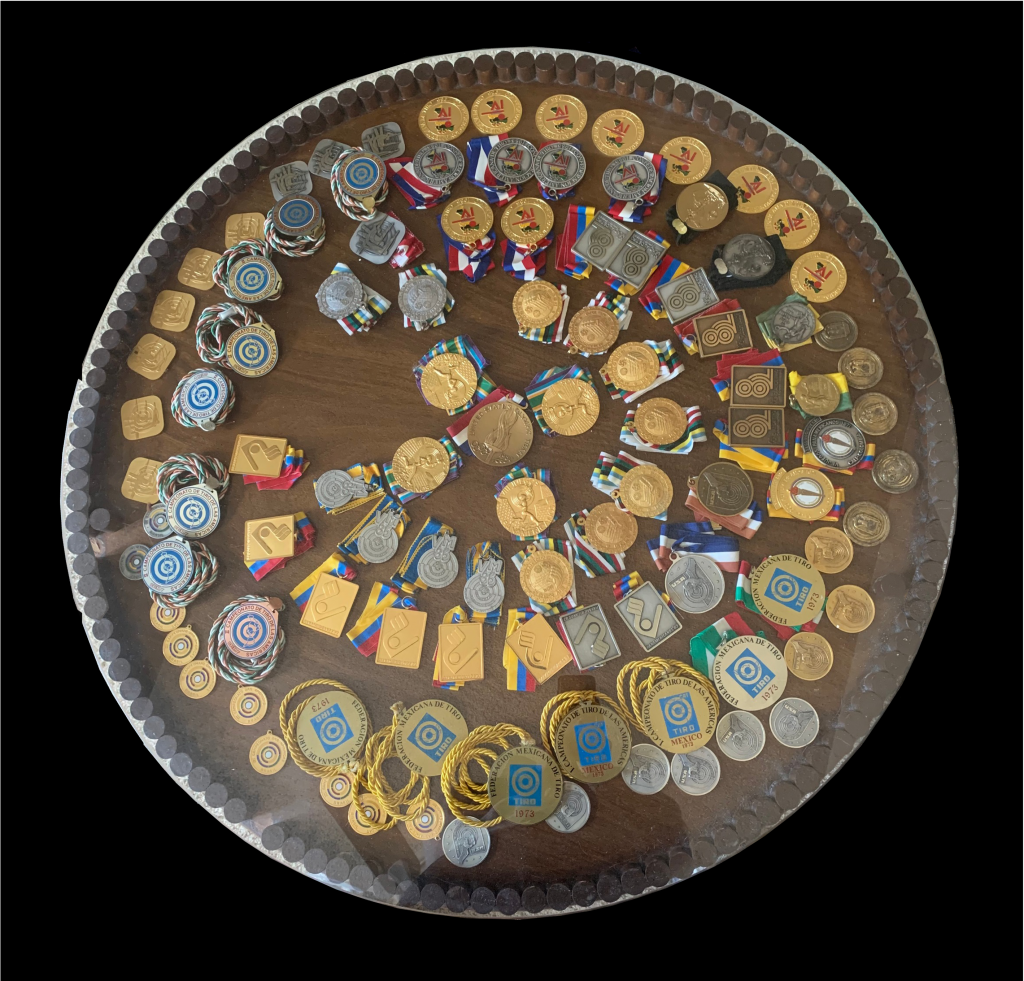 Medal/Honors Tally
Wigger competed in the 1964, 1968, 1972 and 1980 Olympics. He won gold and silver in 1964 and another gold in 1972.
International Shooting Career
65 gold, 38 silver, 8 bronze = 111
29 world records
USA Shooting Hall of Fame
USAMU Hall of Fame
Guns.com – As noted by USA Shooting earlier this year when they announced an endowment and legacy project in Wigger's honor, he was also a "24-time World Champion, 33-time world-record holder, and 91-time National Champion" and the organization recently renamed their headquarters the Lones Wigger Legacy Hall & Shooting Center. As the only athlete to win medals in all three Olympic rifle shooting disciplines, and with the fact he had won more medals in international shooting competitions— 111— than any other athlete in the world, Wigger is a member of Army Shooting Hall of Hame, U.S. Olympic Hall of Fame and U.S. International Shooting Hall of Fame, among others.
The Colorado Springs resident will become the first shooter inducted into the Hall at a ceremony tonight in Chicago, part of a 2008 class highlighted by boxer Oscar De La Hoya, Englewood swimmer Amy Van Dyken and the 1996 women's gymnastics team.
"Camp Perry – The Last Full Measure"
(Image)
Camp Perry 21 National SB Rifle Position titles – knee injury halted his quest for more in 1986
NRA Shooting Sports – Domestically, Wigger won 56 National indoor and outdoor titles, his most outstanding achievement being 21 Outdoor Smallbore Rifle Position Championships between 1963 and 1991, which included a run of nine consecutive Parsons Trophies between 1976 and 1984. Add to that eight Outdoor Smallbore Rifle Prone Championships, and the fact that he won both championships in 1963 and 1973 and you have an impressive resume. Wigger also compiled countless National Records, 29 appearances on the U.S. Dewar Team, six Pershing Teams, four Roberts Teams, and one Wakefield Team.
"Team Wigger – A Family Affair"
As if Lones' achievements were not enough, it is remarkable that his two sons and his daughter were champion shooters themselves. One of the shooting achievements he was most proud of was the performance of "Team Wigger" at the 2013 NRA National Smallbore Rifle Prone Championships. Lones and his three children would shoot a perfect 1600 with 133x's in the team match, just 13x's behind his old USAMU Teammates!

The shooting prowess that Ronald, Danny and Deena achieved their shooting was further testimony of their father's dedication to his family and coaching his children as summarized below:
From SI – Both of Wigger's sons, Ronald and Danny, won scholarships to Eastern Kentucky on the strength of their marksmanship. Ronald, 26, is now a first lieutenant with the USAMU, and Danny, 25, is a senior at Eastern Kentucky.
Ronald Wigger –
West Point, N.Y. — Ron Wigger coached the U.S. Military Academy rifle team to a national championship in 2005. But he was subjected to an entirely new experience during the 2014 U.S. Army Warrior Trials at West Point, N.Y.
Presenting the Hall of Fame honor to Wigger at the induction ceremony was his son, Maj. Ron Wigger, who is the U.S. Military Academy's rifle coach and a two-time national "Coach of the Year" selection. As a competitor, Wigger was a member of the All-Guard smallbore rifle team that captured the 1993 national team championship at Camp Perry, Ohio. He was also among the final six shooters competing for a spot on the 1992 Olympic Team.
Danny Wigger –
Deena (Wigger) McDorman –
Deena Wigger, followed in his footsteps competing in the 1988 Olympics and as a teammate of her father's in the 1983 Pan-American Games.
Deena, by contrast, was new to the world-class scene. She had burst from obscurity the previous summer to win her first national championship over Pat Spurgin in standard rifle prone (Spurgin went on to win gold at L.A. in air rifle) and later won the women's English match event at the 1983 Pan American Games in Caracas.
From SI – Now completing her sophomore year at Murray State University in Kentucky, I'll join ROTC, like my dad and my brothers before me, then hope to get into the USAMU at Fort Benning. It's the best deal there is for a shooter."
From SI – Last summer she won four national titles and the bronze medal at the World Championships. In 1985 she won a silver in the junior event at the World Air Gun Championships in Strasbourg, France. "It was an open event," she says, grinning, "so we got to shoot against the men. We beat the French guys, and they were the world champs."
Deena Wigger is a one-time world record holder in women's air rifle, and was a member of the 1988 U.S. Olympic rifle team. In 1983 she won the gold medal at her very first international competition, the Pan American Games, which she competed in when she was just 16 years old. Wigger has also won medals at the rifle shooting world championships.
Wigger went on to college at Murray State University in Kentucky, where she played on the school's rifle team. The highlight of her time at Murray State came when she helped her team to win the NCAA shooting championship. Wigger competed in the World Championships for shooting in 1986, and took home a bronze medal.
In 1988, when Wigger was 21 years old, she competed at the Olympic Games on the U.S. rifle team. Her father acted as the team's manager. Wigger's 9th place performance disappointed her, and she considered giving up the sport. It didn't help that she had big shoes to fill–she questioned whether she would ever be as good as her father.
Wigger overcame her disappointment over not medaling at the Olympics. She got back on her feet, again shooting in competitions. Wigger's persistence paid off, and in 1989, she broke the women's world air rifle record, with 389 points out of a possible 400 (another shooter broke her record within a year). Wigger went on to won a silver medal at the World Championships in 1990.
1983Wins gold metal at Pan American Games1986Wins bronze medal at world rifle championships1988Competes on U.S. Olympic rifle team1989Breaks women's world air rifle record with 389 points out of 400 possible1990Wins silver medal at world championships; named U.S. Olympic Committee female shooter of the year1994Wins gold medal at Olympic Festival
Wiki – Wigger won a total of four gold medals at the Pan American Games in 1983—1995.[2] She also won one gold, two silver and two bronze medals at the 1986 and 1990 World Championships. In 1989 she broke the world record for air rifle with 389 of 400.[1]
Murray State bio – An 8 time NCAA All-American, Wigger won an NCAA Championship in 1988. She was an OVC Scholar Athlete and GTE Academic All American in 1990. She also earned acclaim on the international level, winning 4 gold medals for the US Pan Am team and one gold medal, 2 silver and 2 bronze medals as a member of the US World Championship team from 1986-1998. She was a member of the 1988 US Olympic Team and was a world record holder in 1990. In 1989 she was a top 10 finisher for the US Olympic Committee's Sportswoman of the Year. Currently, she is a commissioned officer in the US Air force and is stationed at Andrews Air Force Base, the Home of Air Force One. Wigger still competes in rifle and earned the 1996 Air Force Female Athlete of the Year.
(Image Denna and Lones)
Eight time All-America in rifle and smallbore. Helped MSU to the 1987NCAA Rifle Championship. Was selected GTE/CoSIDA Academic All-American in 1990. Maintained her world class shooting status while at MSU, winning the World Cup championship in rifle and three gold medals in the Pan Am Games. A participant in the 1988 Seoul Olympics, she held the world record in women's air rifle.
1983 Pan Am Medals – smallbore rifle prone and prone team events.
1995 Pam Am – Gold Smallbore Rifle 3-Position
1987 Pam Am Bronze Air rifle
1986 World Championship Bronze (air rifle?)
1990 World ChampionshipsSilver Medal Air rifle
"With Attainment Comes Responsibility"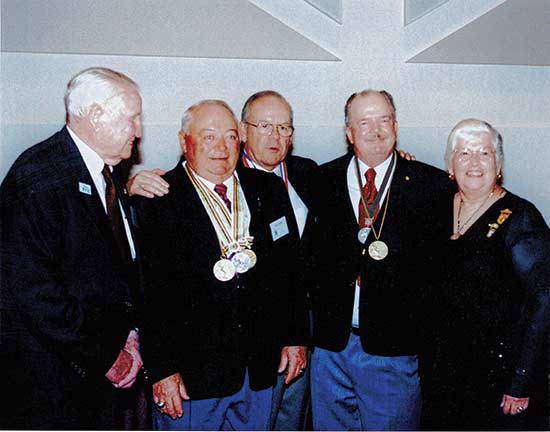 Lones' USAMU Teammate Lanny Bassham (2nd from left) has some wise words on the responsibilities that come from being a Champion. Here is a quote from Lanny's book Freedom Flight:
"With Attainment Comes Responsibility"
"If we strive for a successful life we must be prepared for the responsibility of that success. To do less would cheapen the attainment. Less meaningful accomplishments require little responsibility. As your accomplishments broaden so should your desire to seek to become someone worthy of the position."
Lones W. Wigger, Jr. found True Attainment through embracing his passion for supporting junior shooters. This support is symbolically captured in this image of Lones signing an autograph for a young girl after winning his Gold Medal at the 1972 Olympics.
There are so many testimonies of how he would stop what he was doing and help juniors needing assistance at matches he attended.
While stationed with the USAMU at Fort Benning, Georgia, Lones started the Ft. Benning Junior Rifle Club and devoted countless hours in developing many juniors into world-class athletes and a number of national team titles. His daughter, Deena McDorman, would go on to win a Silver Medal at the World Championships!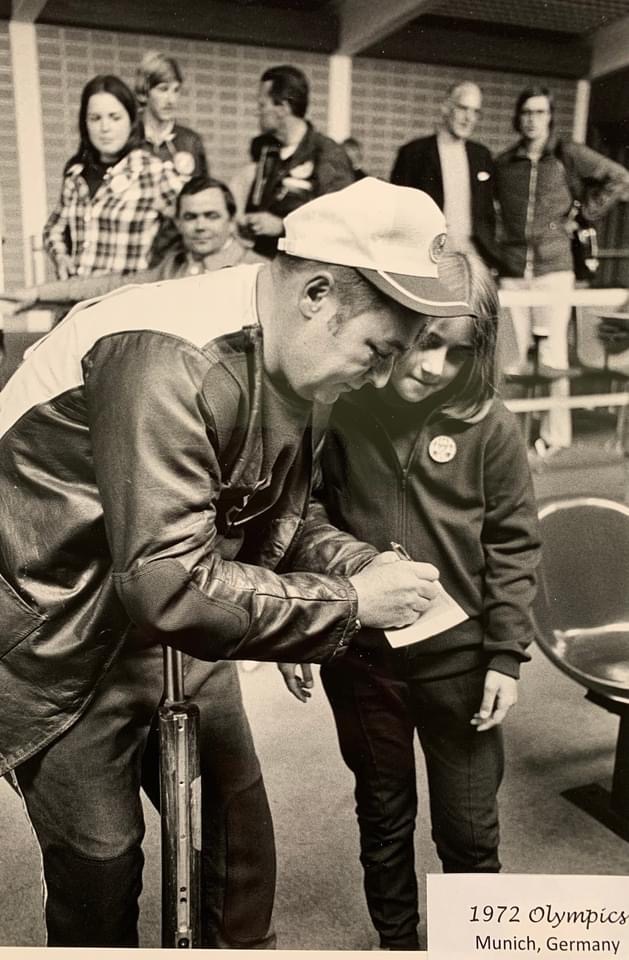 The culmination of his involvement with the juniors was the establishment of the Lones Wigger Youth Programs Endowment, together with the MidwayUSA Foundation, to create perpetual funding for youth and grassroots development programs.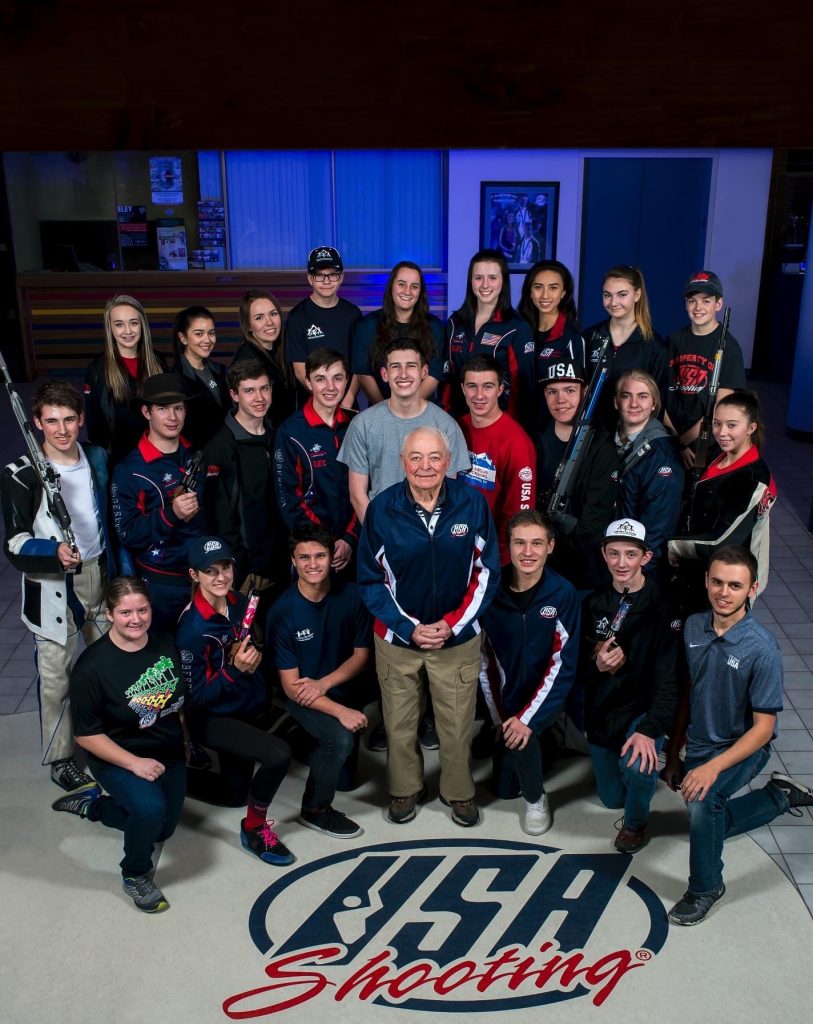 In March of 2022, Lones' family made the decision to put Lones' personal firearms and Olympic memorabilia up in auction. All of the proceeds would be donated to support his beloved juniors that make up the future of the USA's Shooting's Youth Shooting Program.
Lones' collection was mostly made up of smallbore rifles, highpower rifles, shotguns and pistols from such manufactures as Remington, Winchester, Anschutz, Mauser, Browning, Walther and Smith & Wesson.
In March of 2022, the GunBroker Auction of the personal firearms of Lones W. Wigger, Jr. came to a close with a total of $70,278 raised for the Lones Wigger Youth Programs Endowment.
Lones' daughter, Deena McDorman, coordinated the auction and stated "We are thrilled with the outcome of the auction and the generosity of those that participated. We hope buyers will cherish their winnings and understand their significance in promoting junior shooting programs. My Dad would be pleased."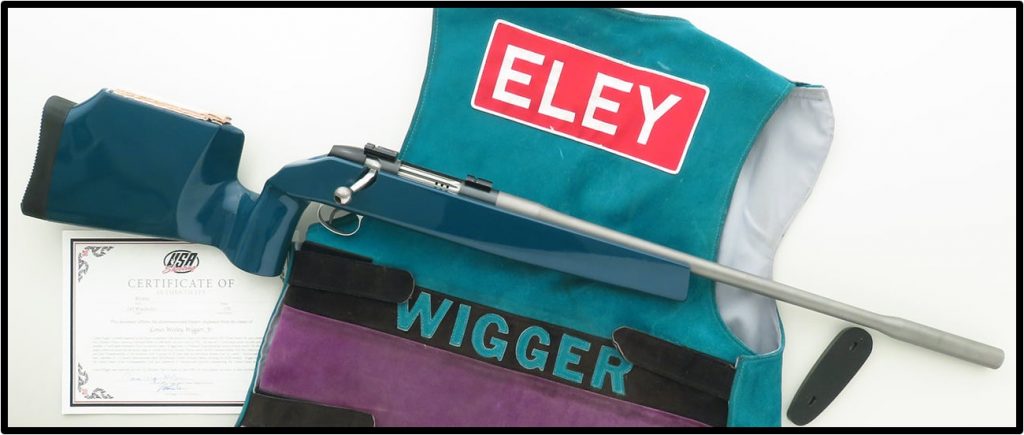 For us Silhouette shooters, the highlight of the Lones Wigger Firearms Auction was one of his High Power Silhouette rifles in .243 caliber. Accompanying the lot was his last silhouette vest made by Chris Winstead (Hardscrabble Mountain Shooting Products). Many of you remember shooting with him wearing this vest.
Lones W. Wigger has more than attained the right to be called "A Champion's Champion" as well as earning the title of "The Most Successful Rifleman in the History of Shooting Sports". We were blessed to have him in our lives and may never see the likes of him again in our lifetime.

"In Memoriam"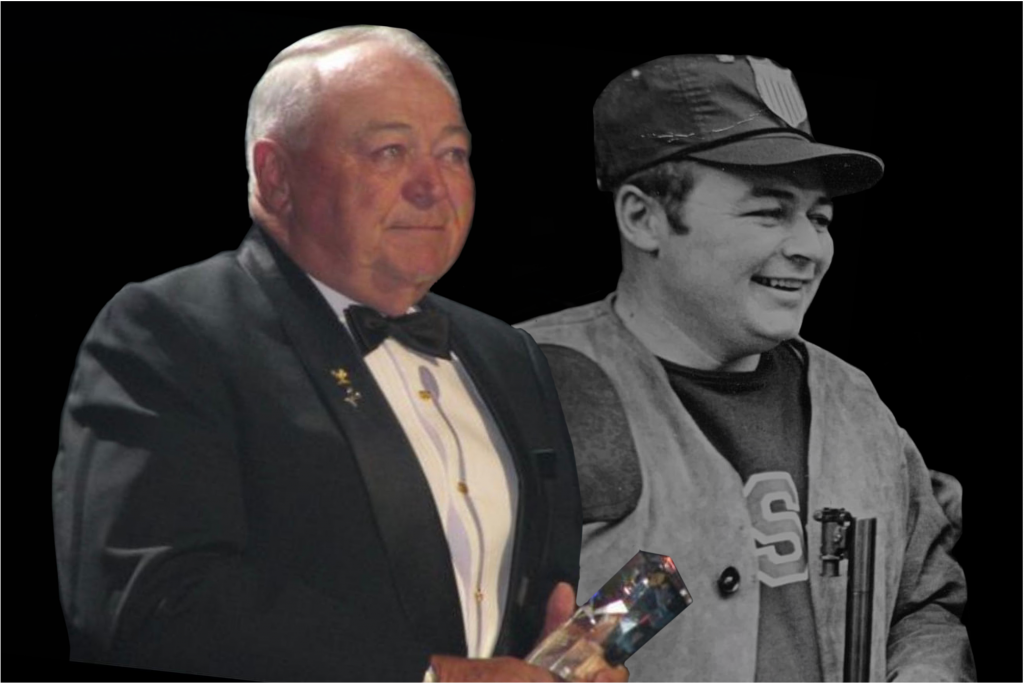 Lones Wesley Wigger, Jr.
(1937-2017)
"The Making of a Champion"
"Champions are made when no one is watching."

"Champions are not made when they win."

"Champions are made when they finish second."

"Champions are made in solitude."

"Champions are made in the off-season."

"Champions are made in the cold, the heat, early in the morning and late at night."

"Champions are made when they do what no one else is willing to do."

"Champions are made when they do not want to do the work, but do it anyway"

"Champions are not born"

"Champions are not lucky"

"Champions are made"

"Lones W. Wigger was a Champion's Champion"