We meet many people such as Chris Winstead in this Silhouette Sport that inspire us through their deeds and actions.
In this 2nd blog in our Inspiration Series, I talked with Chris, well known in the silhouette world for his knowledge of our sport and coaching/spotting for his daughter Cathy Winstead-Severin to an unprecedented level of success.
Go to a Silhouette Championship Match in the US and you will also likely find Chris on the firing line spotting for Cathy and other members of a Capstone-sponsored Team. It is one of the ways he gives back to our Silhouette sport. So let's take a deeper dive and chat with Chris to discover the source of his passion!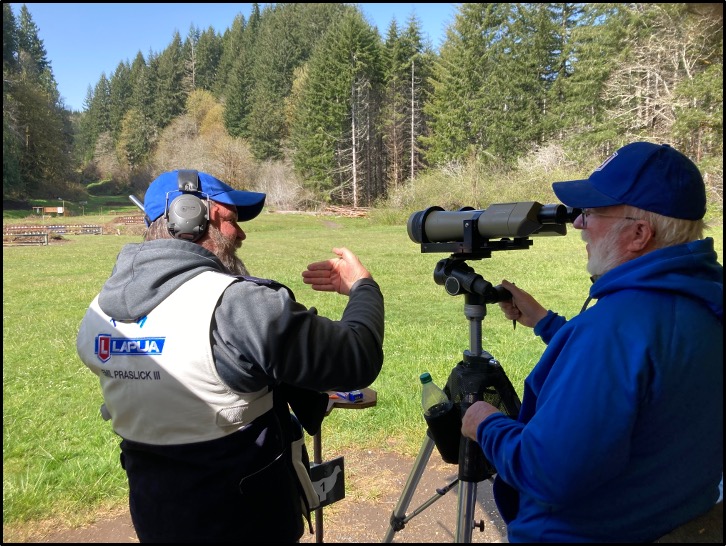 ____________________
Chris C. (Q) — Chris, welcome as the subject of our second blog in a series of inspirational interviews with people who have helped support Silhouette.
Chris W. (A) — Thanks for the opportunity to talk about the shooting sport of Silhouette. It has become a family of friends from all over the world.
The Winsteads & The World Of Running Target
Quite a few Silhouette shooters come from NRA High Power, NRA 4P or ISSF 3P disciplines where standing scores largely determine champions.
Chris Winstead and his daughter Cathy-Winstead-Severin are rather unique in that their shooting roots were first grounded in the ISSF Sport of Running Target.
Imagine in Running Target you not only have to stand up and hit a very small moving target, but do this in a matter of seconds starting with the gun off your hip!
First a short primer, learning more about how ISSF Running Target competition has helped transform Chris (coach/spotter) and Cathy (shooter) to the top of our Silhouette sport.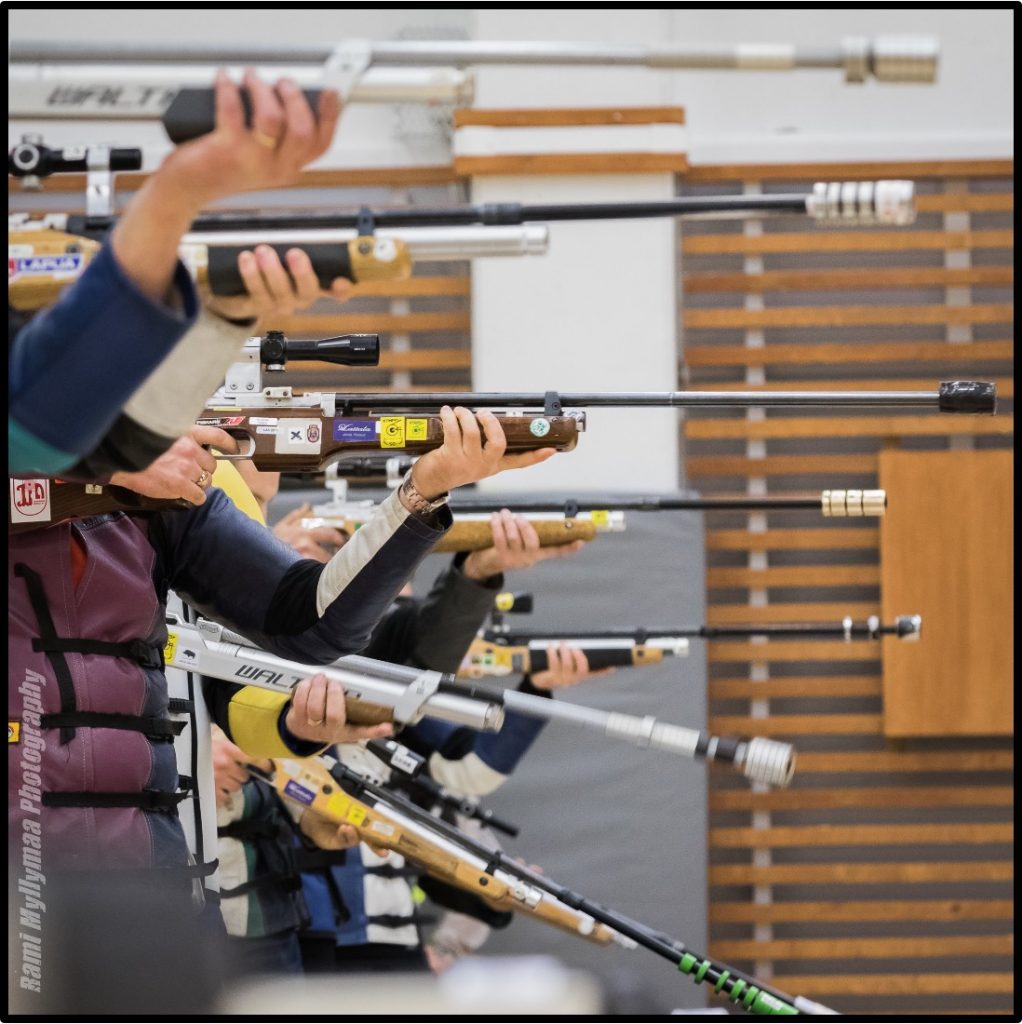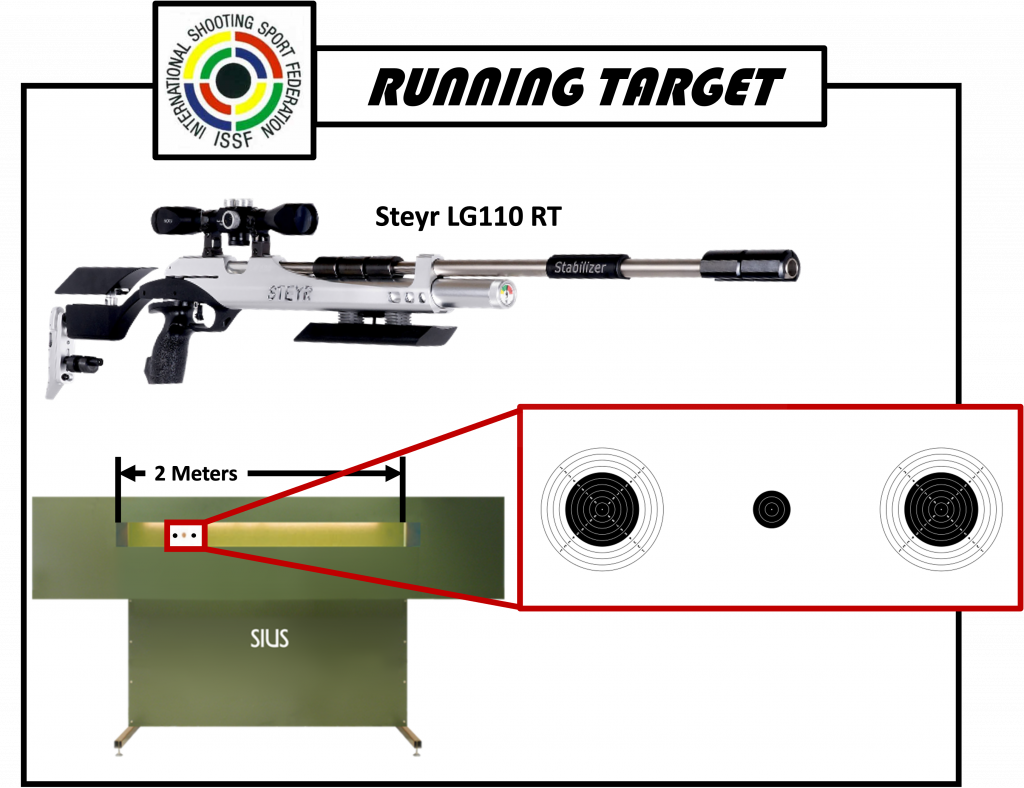 As Running Target implies, the target moves sideways across a two meter distance at 10 meters from the firing line.
There are two target speeds, slow and fast. Slow is a travel time of 5 seconds over two meters to get off the shot. If that was not already difficult, fast speed is a travel time of only 2.5 seconds over two meters.
The course of fire is 30 shots slow and 30 shots fast for the men and 20 shots slow and 20 shots fast for the women. One look at the target further amplifies the degree of difficulty with this shooting sport!
____________________
Chris C. (Q) — Many do not know that early on you were coaching future Olympians in the difficult sport of ISSF 10-Meter Running Target. Tell our readers a bit about your early activities in this coaching capacity?
Chris W. (A) — It started after watching a Running Target demonstration in Dillon, Montana. The difficulty of the sport drew me in. I started with four shooters, Hank Gray, John Gray, Chad Winstead and Cathy Winstead. I built a homemade running target machine so they could practice. Then next I built an indoor range on the house so my shooters could come and practice anytime.
____________________
In 1993, all the hard work paid off. Soon before this photo was taken for the Bozeman Daily Chronicle, Hank Gray, Cathy Winstead, Chad Winstead and John Gray (left to right) qualified for the US Junior Olympic Running Target Team.
Hank, Cathy, Chad and John now made up four of eleven shooters nationwide on the US Junior Olympic Running Target Team. This was a phenomenal success rate and established Chris Winstead as a coaching force to be reckoned with.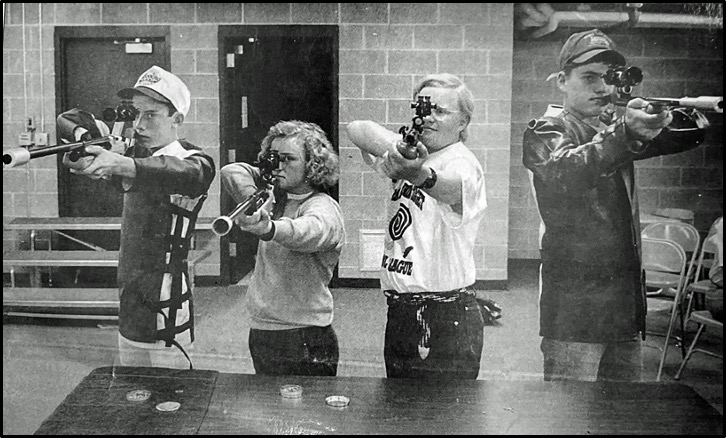 ____________________
Chris C. (Q) — So tell us a bit about the success you had coaching Hank, John, your son Chad & your daughter Cathy.
Chris W. (A) — Many became members of the US and US Development Teams. The Junior Team took 2nd at the World Championships just behind China but ahead of Russia. Cathy took 2nd in the Junior World Championships at 14 years of age in Milan, Italy. I have listened to many great coaches over the years, but Sergey, the Running Target coach, taught me the most that works with Silhouette.
____________________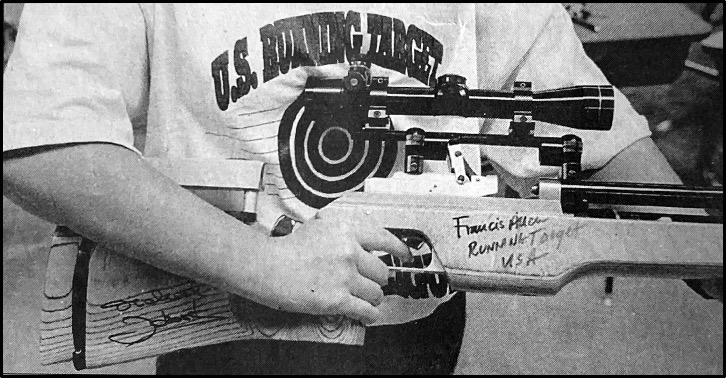 Running Target rifles are very similar to the Target Class in Air Rifle Silhouette. Shown here is Cathy's Olympic match-grade Feinwerkbau Oberndorf Running Target Rifle with a special double reticle telescopic sight for leading targets both from the right and left.
Cathy's Feinwerkbau had special significance for her as it is autographed on the stock by German Running Target Champion Michael Jakosits, the 1992 Barcelona Olympic Gold Medal Winner.
The ultimate goal behind Chris Winstead coaching his Belgrade-based US Junior Olympic Running Target Team was for them to earn a spot on the US Olympic Team. This became possible when the Olympic 10-Meter Running Target Event replaced 50-Meter Running Target Event at the 1992 Barcelona Olympic Games.
Olympic Running Target dreams were shattered when the 10-Meter Running Target Event was dropped after the 2004 Athens Olympics. A small consolation was the addition of a separate World Championship in 2008.
____________________
Chris C. (Q) — What was going through your mind on hearing the news about Running Target being dropped from the Olympics?
Chris W. (A) — I had given my money, time and my job to Running Target, not to mention the hundreds of hours my young shooters had dedicated to their sport. We all thought that other shooting disciplines were simply boring compared to Running Target!
The Journey From Running Target To Silhouette
Chris, Cathy and Chad, after working countless hours as coach/spotter and shooters in Running Target, made a quick and successful transition to Silhouette.
At the age of just 16, Cathy entered the 1995 Canadian National Smallbore Silhouette Championship and took top honors!
Chris (shown here on the left) is looking on as Cathy stands on the top of the winner's podium at the Bull River Shooter's Association Range. One proud Dad and one newly crowned Canadian Open Silhouette Champion!
To the detriment of many want-to-be champions, the girl with the pink rifle and the dad who become known as a spotter's spotter would now be a constant presence on the championship circuit….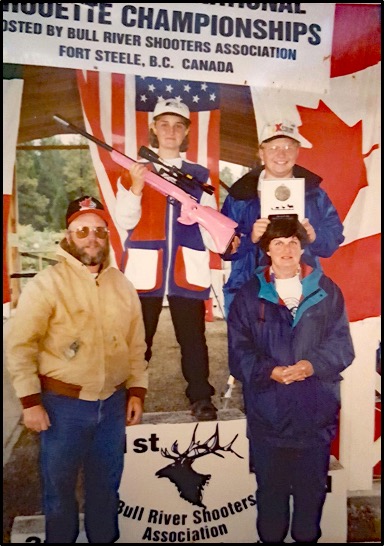 ____________________
Chris C. (Q) — After the blow in having 10-Meter Running Target dropped from the Olympic program, tell me about your transition from Running Target to Silhouette?
Chris W. (A) — When Running Target was dropped by the Olympic Committee, we were using Silhouette as a cross-training for Running Target. Running Target and Silhouette are very similar in that they are very difficult and are both offhand shooting sports. I believe that only offhand proves the shooter. In both Running Target and Silhouette, you need an active trigger, an aggressive attitude, and take the first good shot. In Running Target, you only have 2.5 seconds to make a center shot, so moving into Silhouette was easy.
___________________
Chris C. (Q) — Some of us shooting Silhouette came from NRA 4-Position and the ISSF 3-Position disciplines. What top key techniques from Running Target would you say are applicable to excelling in Silhouette?
Chris W. (A) — In Silhouette, the windy days make the sport difficult. You may only have 45 seconds for your five shots between wind gusts. Being aggressive with an active trigger can make the difference in a hit or miss. An active trigger means pressure on the trigger when the stock is on the shoulder. Then learn how to take the first good shot. You watch a spot on the target and break it when the sight comes to the spot.
____________________
After that Canadian Championship win in 1995, the wins piled up and they still do. This included appearances in the 2000, 2002, 2004, 2006 and 2008 World Championships. Cathy won her first World Championship in Brisbane, Australia in 2000 and went on to win six more Open World Championship titles.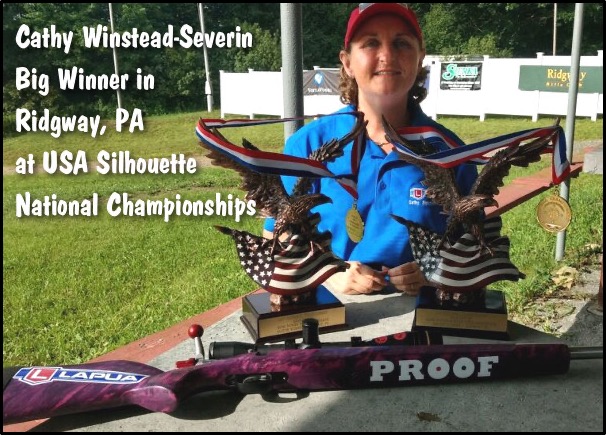 Closer to home, the 2017 Championship season was the crescendo in peak performance.
With Chris by her side, Cathy started the 2017 season winning the Conard Bernhardt Cup (Pe Ell, WA) and the Iron Man Rifle Silhouette Championship (Missoula, MT).
On to the 2017 NRA National Silhouette Championships, Cathy won both Smallbore Standard and Hunting Rifle Championships as well as both High Power Standard and Hunting Rifle Championships.
If this was not enough, the road trip to Canada in the same year saw her repeat this performance, winning all four guns at the 2017 Canadian National Silhouette Championships!
____________________
Chris C. (Q) – The year 2017 had to be some special year for you and Cathy. Any reflection you care to share with us on this historic achievement?
Chris W. (A) — It was the culmination of a lot of hard work. Cathy had a great attitude of "lets do this and let it happen". Call it a rededication to our sport. I do not think this achievement will ever happen again.
___________________
Chris C. (Q) — What would be your most memorable experience after many years of competing in Silhouette?
Chris W. (A) — It was in South Africa when my son Chad said "I know who is first, it's Cathy". He then looked at the scoreboard and found out he was in second place. The look of surprise was fantastic. To think that they were one and two in the World!
---
Chris C. (Q) – Any one personality from your silhouette past that left a lasting impression with you and why?
Chris W. (A) — Again, an easy question. Two sisters. We went to Nationals back in 1992, they took us under their wing and showed us the "ins and outs" of Silhouette. Marguerite and Teresa Everhart showed us how you welcome new shooters.
____________________
Cheers for the Everhart sisters. Chris Winstead has paid forward this kindness in spades!
The 2022 Lapua Monarch Cup
In 2019, Cathy Winstead-Severin traveled to the 2019 Mexico Nationals at Club de Tiro Saltillo Safari. Under Daniel Salazar's leadership, Cathy and other top shooters from Canada, Mexico and the USA participated in planning the 2020 Lapua Monarch Club to be shot in Canada, Mexico and the USA.
Covid had other plans and the Lapua Monarch Cup would be delayed till 2022 with an abreviated schedule to be shot in Mexico and the USA with Canada not participating until 2023.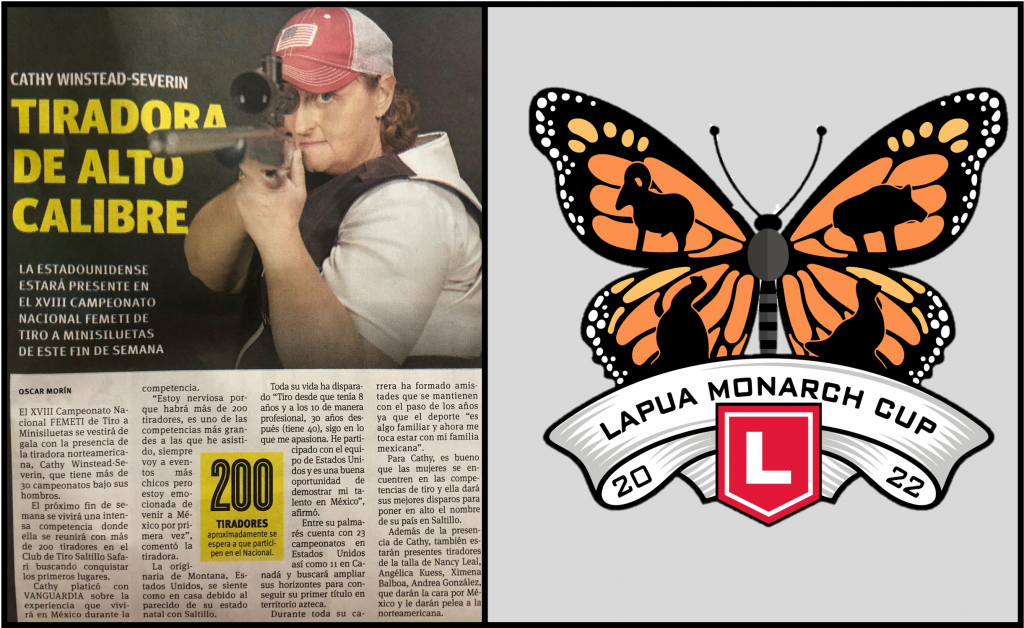 When I spoke with Chris Winstead about the Lapua Monarch Cup this year, needless to say he was thrilled as Silhouette finally had the beginnings of a World-Cup type of match from his days in Running Target. Certainly, this match would further legitimize Silhouette as a true International Sport!
____________________
Chris C. (Q) — Speaking of promoting our silhouette sport, the 2022 Lapua Monarch Cup is set to kick off in North America after a 2-year delay due to Covid-19. Can you share with us your views on this historic first for our Silhouette shooting community?
Chris W. (A) — When the Monarch Cup is in full operation in North America, it will bring shooters from Mexico, Canada and the US to all three countries, increasing the numbers of our family of Silhouette shooters. This Monarch Cup is the best thing to come along for the Silhouette game since the beginning.
____________________
Chris C. (Q) — Rumor has it that you are not only going to Mexico as a spotter/coach but planning on shooting as well?
Chris W. (A) — It will be fun to go down to Mexico and shoot the Monarch Cup! I have never shot in another country and this is where Silhouette originated.
____________________
Promoting Our Silhouette Sport
The 2022 Lapua Monarch Cup will have a huge impact in promoting Silhouette throughout North America. In fact, the Monarch Cup was instrumental in the development and launch of the North American Silhouette Shooting Association (NASSA).
A preliminary NASSA proposal was presented at the 2021 NRA Silhouette Championships in Ridgway to some of the top shooters/vendors present for comments and actions. Feedback was positive signaling the necessary NASSA Project Planning should move forward.
Both Chris and Cathy generously gave their feedback that was incorporated into the NASSA Project Planning Phase.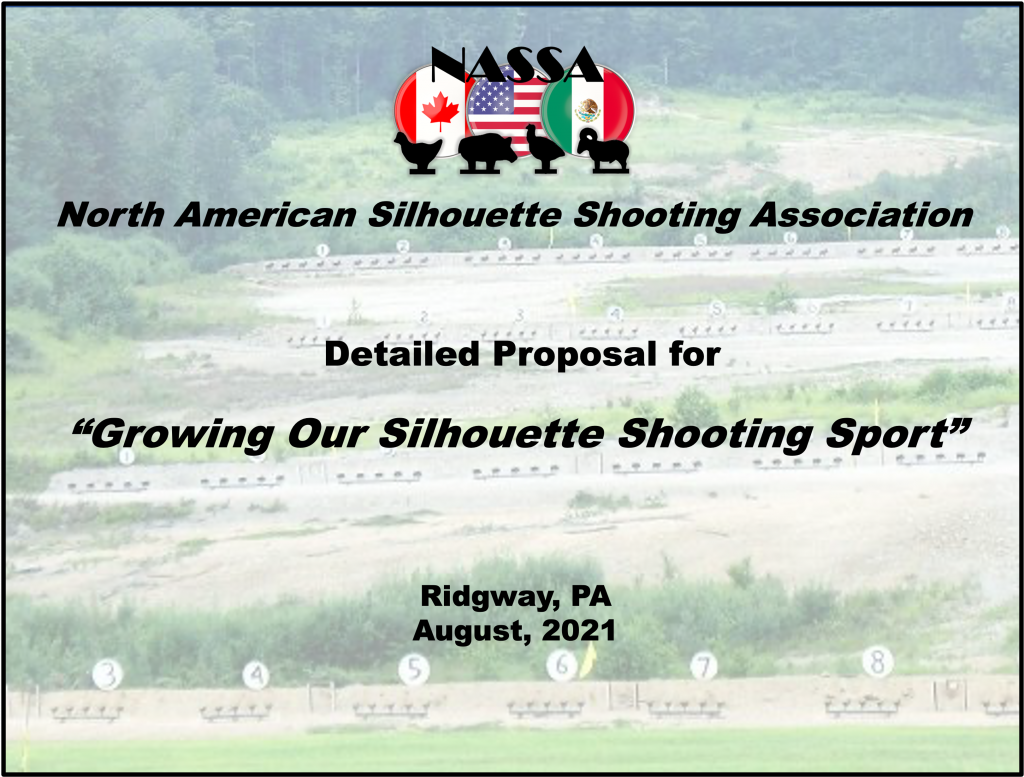 ____________________
Chris C. (Q) — You were involved in the early discussions regarding the kick-off of the NASSA initiative. What are your views on the importance of promoting our Silhouette sport?
Chris W. (A) — NASSA and the announcement generated lots of excitement and positive energy in our local shooters. It would develop camaraderie between the Mexican, Canadian and the US shooters. And the most important aspect is building the next generation of silhouette shooters to continue our sport in all three countries.
____________________
Chris C. (Q) — NASSA will be driving initiatives to increase our growth through new silhouette disciplines such as Half-Course High Power Silhouette. What changes or new initiatives would you like to see NASSA emphasize moving forward?
Chris W. (A) — Our excitement was centered around the idea of not only competing in two other countries, but the standardized format that was developed for "equalizing" the shooters so that everyone had a fair and equal chance at each competition in attaining their best scores. Also, participation in matches that would highlight the best silhouette shooters in North America would be a learning experience for everyone.
____________________
Younger Shooters – Our Future
In my interview with Chris Winstead, it became very apparent he has a passion for supporting junior shooters. This same trait was also front and center with Lones Wigger, the subject of our first Inspiration blog.
As I reflect on both Lones and Chris, Lanny Bassham's quote from Freedom Flight takes on an even stronger meaning:
"With Attainment Comes Responsibility"

"If we strive for a successful life we must be prepared for the responsibility of that success. To do less would cheapen the attainment. Less meaningful accomplishments require little responsibility. As your accomplishments broaden so should your desire to seek to become someone worthy of the position".
In other words, anyone such as Lones or Chris worthy of being a subject for the Inspiration blogs has found True Attainment!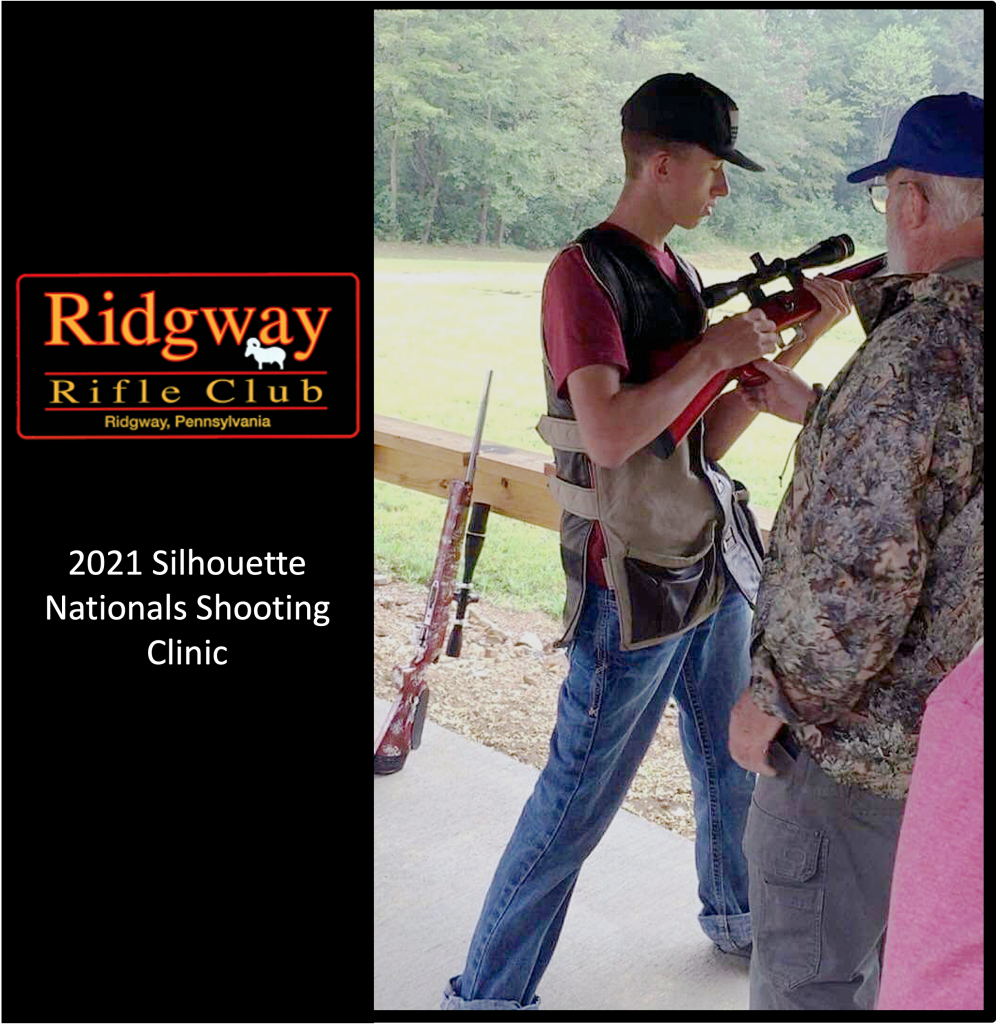 ____________________
Chris C. (Q) — You coached/developed young and upcoming Olympic hopefuls for Running Target. Can I assume you would want NASSA to have a similar emphasis to encourage the recruitment and development of younger silhouette shooters?
Chris W. (A) —That is easy but takes a lot of time. All Silhouette shooters need to get involved in the local 4H and JC BB Gun Programs. Start learning, coaching, and teaching these young shooters. Then give them the chance to get into Silhouette shooting in the summer with their families.
____________________
Chris C. (Q) — Texas junior shooter Jake Stine shot really well at the 2021 NRA SB Nationals in Ridgway. What key advice would you give to rising young stars such as Jake to reach the top of their game?
Chris W. (A) — Make it a family sport and make it fun. Practice often for just short times on things that break like clay targets and shoot at the pieces. Dry fire in the house at an outside target. I recommend a turkey. It is quality over quantity and you can always give me a call if you need help.
____________________
Chris Winstead means it when he says to the juniors to pick up the phone if you need help. Jake Stine is now being coached by Chris since Jake has joined Team SK within the Capstone Group. Some things never change!
Hardscrabble Mountain
Go to any Silhouette Smallbore or High Power Championship in the USA and you will see Hardscrabble Mountain brand silhouette vests everywhere.
Hardscrabble Mountain, in the middle of Big Sky Country, was founded by Chris Winstead in 1994. Many of us met Chris Winstead for the first time because we contacted him to make us a silhouette vest!
Even Lones Wigger, the greatest rifle shooter in the world and the subject of our first Inspiration blog, had to have a Hardscrabble Mountain silhouette vest as shown here at the NRA National Smallbore Silhouette Championships (Ridgway).
Lones' High Power Silhouette Rifle and Hardscrabble Mountain Vest (see photos) were recently auctioned on GunBroker by the Wigger family to benefit the Lones Wigger Youth Program Endowment.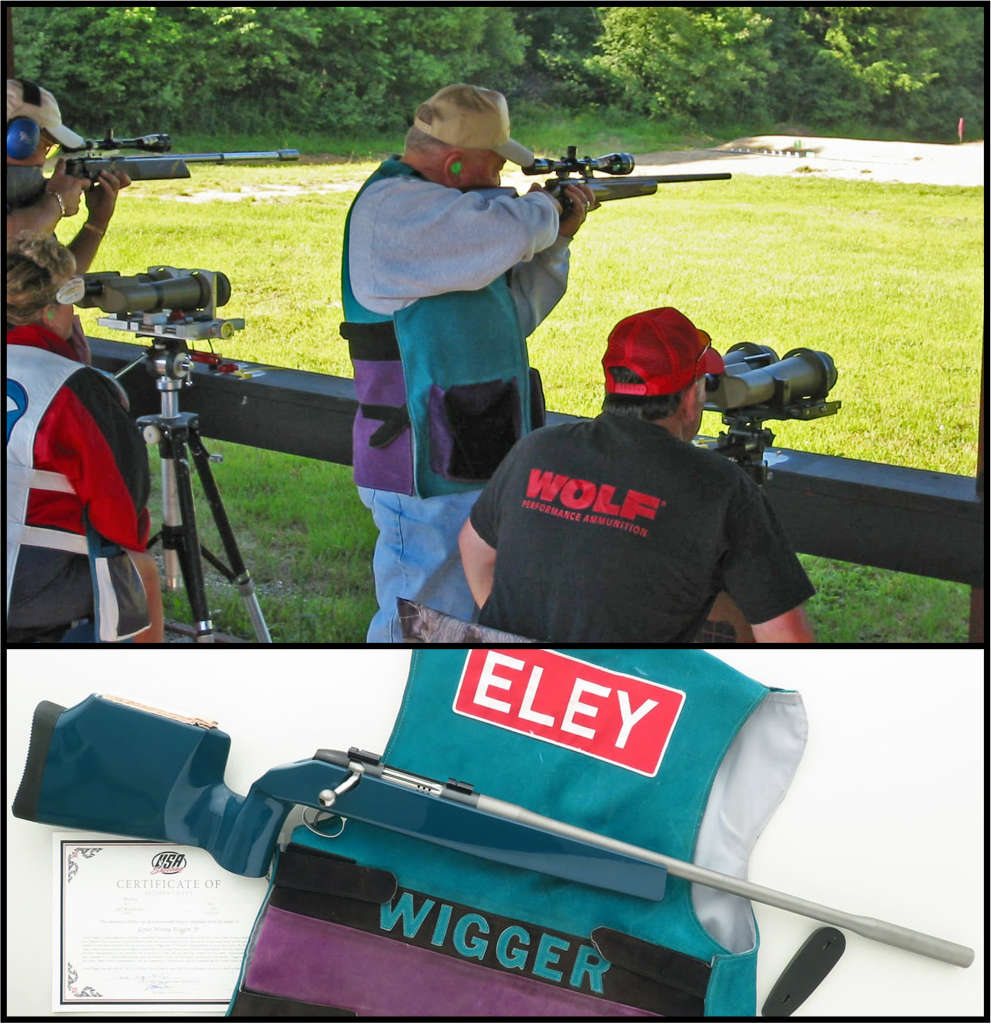 ____________________
Chris C. (Q) — Last but not least, many of us first met you through ordering a leather Silhouette vest from your company, Hardscrabble Mountain. Tell us how you ventured into this line of business?
Chris W. (A) — At the beginning, no one would build Cathy a vest for someone 4'11" and so I learned how to make one. Now 27 years later, I am still improving and learning how to make a Silhouette vest.
____________________
Chris C. (Q) — Everywhere I go in the US, I see people wearing your vests. You must feel great satisfaction your success and getting to meet so many shooters from all over the world?
Chris W. (A) — Never did I think I would sell vests all over the world. I also keep thinking it will come to an end, but the new shooters and reorders keep coming in!
____________________
Closing Remarks
Those who know Chris Winstead all have their moments where Chris has influenced their shooting in some way, shape or form.
Cathy Winstead-Severin knows this more than anyone, having spent well over 30 years shooting alongside her father. Countless hours traveling around the World and throughout the US….
So to close out our chat, I thought it would be appropriate to finish up with Cathy Winstead-Severin answering one last question: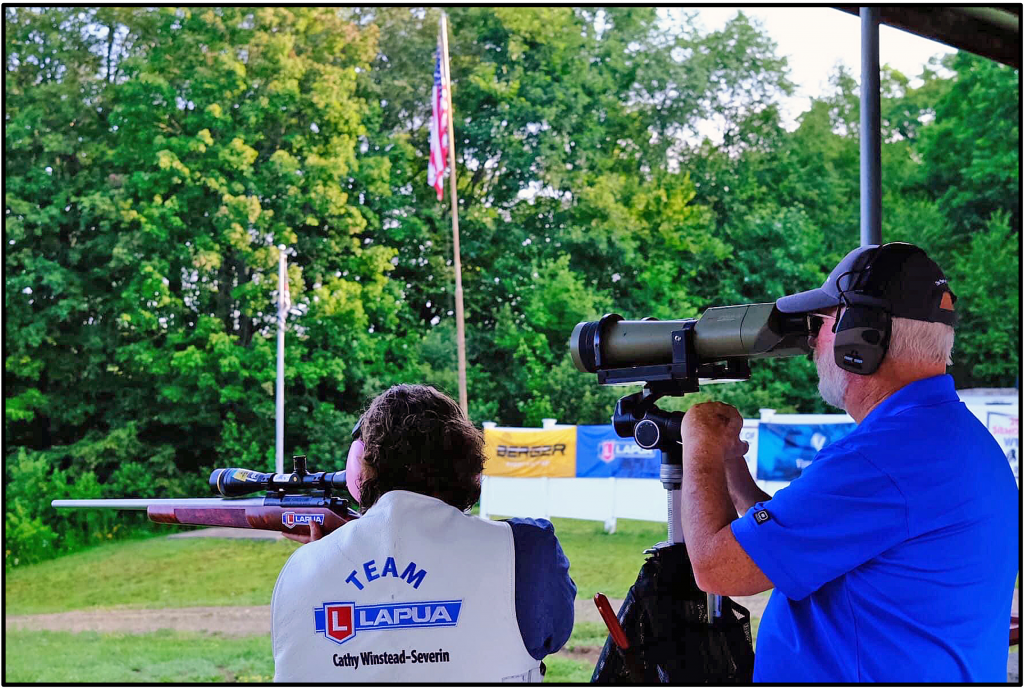 ____________________
Chris C. (Q) — Your father has inspired many of us by his example. In your words, how has he inspired you throughout your shooting exploits?
Cathy W-S. (A) — I don't really know if there is any one defining moment of inspiration from my dad, more like a lifetime of inspiration. He and my mom both are my heroes. They have always inspired me by sticking side by side and through the ups and downs of life. They never give up, are kind, positive and giving. I aspire to be like them.
____________________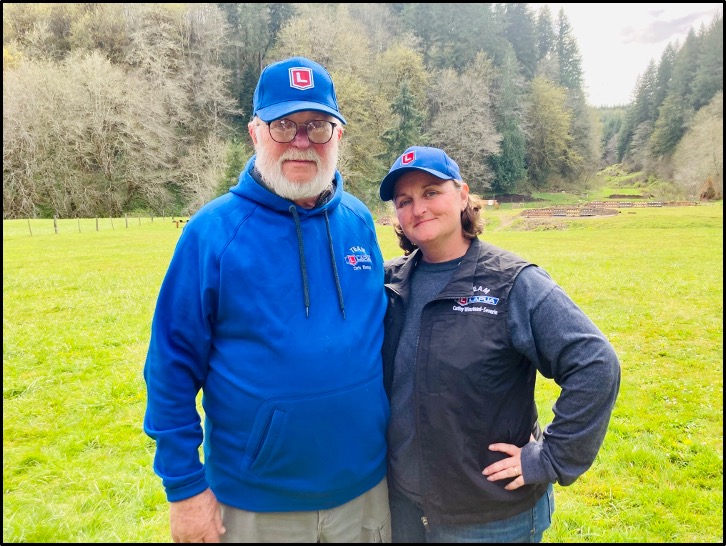 I want to thank Chris Winstead for sharing some of his personal thoughts and knowledge with us on his remarkable journey along with his daughter Cathy Winstead-Severin. It has been my distinct pleasure to get to know Chris better over the last few years and call him my friend.
For all our readers who have not met Chris and Cathy, say hello if you see them in a match as you will not find a more friendly and knowledgeable spotter/shooter team on the firing line!
"Chris is truly an inspirational leader within our Silhouette Shooting Community!"