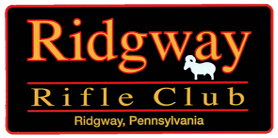 Founded in 1927 as the Ridgway Rifle and Pistol Club, the name was changed to the Ridgway Rifle Club in 1935. The club engaged in many different activities and events over the years and then in the early 1970's the Ridgway Rifle Club established the first silhouette range east of the Mississippi River. At first, it was the site for many State and Regional Championships before members of the club began to set their sights higher, looking at the National Championship. Finally in 1985 the Ridgway Rifle Club was given the word that they would be hosting its first National Championship for High Power Rifle Silhouette.
Once members received word that they would be hosting the National Championships, the work began to create a National Championship High Power Range. Members of the club who were planning on competing in the upcoming Championship began paying their entrance fees in February so that the Ridgway Rifle Club could create a range that was worthy of the National Silhouette Championships. A great sense of pride and satisfaction was felt by the club members when the range facilities received high praise from the competitors who traveled to Ridgway to participate in our first Nationals!
Since then, Ridgway has hosted more National Championships than any other independent club in the nation. Our range facilities continue to be favored by the shooting ranks with many national records being set while competing here and our reputation for having a quality competition in friendly surroundings continues to draw shooters from long distances to Ridgway. In 2021, Ridgway Rifle Club was given the opportunity to host all 4 National Championships (Black Powder, Lever Action, Small-Bore and Hi Power). For the Lever Action and Black Powder Nationals, it would have been the first time they have ever been held in the Eastern USA.
This was a great opportunity to show off our world class silhouette ranges to the silhouette community and one of the most amazing events that occurred at the Nationals was a presentation of one of the original YU or EWE silhouettes, gifted to the Ridgway Rifle Club from Club de Tiro, Caza y Pesca A.C. Fernando Hage in honor of all we have done for the sport of silhouette shooting. This YU or EWE is on display in our main clubhouse for all visitors to see.
Contact Information
| | |
| --- | --- |
| Website: | Ridgway Rifle Club |
| Facebook: | Ridgway Rifle Club |
| Business Address: | 152 Grant Rd, Ridgway, PA 15853 |
| Club House Address: | 152 Grant Rd #10, Ridgway, PA 15853 |
| Primary Contact: | Kenny Haupricht |
| Primary Contact Phone: | 814-389-6557 |
| Primary Contact Email: | kghaupricht@yahoo.com |
Silhouette Range Capabilities
| | |
| --- | --- |
| Disciplines: | Range Facilites: |
| Smallbore Rifle | 10 banks of each animal |
| High Power Rifle | 10 banks of each animal |
| Lever Action Rifle | 10 banks of each animal |
| Black Powder | 10 banks of each animal |
Silhouette Range Facilities